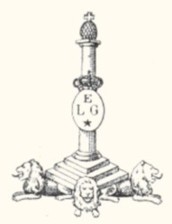 AGNEL Adolphe
The weapon
Revolver of hammerless type (called UNEVEN in Liege) to central percussion and box frame. It is marked as being of calibre 6,35mm. The trigger without trigger guard is folded up under the frame and the articulated rod swivels on an axis. The short barrel is with 8 sides with front sight in half-moon. The weapon is equipped with a marked manual safety F on the side postpones left. The grooved cylinder comprises 5 rooms.
Punches.
No punch of Liege or besides is visible on the photographs and that does not facilitate the identification!!
Marks
Only crowned mention "AA" is visible on the weapon. It does not appear in the directory of the trade marks in Belgium. But is the weapon of Liège??
Assumption: by basing me on the initial ones, I at least discover an arms manufacturer of Liège who could correspond, in time; it acts from AGNEL Adolphe street Nozé, 2 with HERSTAL, author of 13 patents of 1901 to 1906.
Appendix: a page of catalog MASEREEL showing a weapon of the same type.
This says crowned mark AA could just as easily belong to AZPIRI Antonio, arms manufacturer Spanish!!!
GG
Since we did not receive any photograph of punches of proofhouse, the nationality of the weapon is not possible to certify!
Alain