Some of the most beautiful work of this craftsman, and many others, are in this book "Liège Gunmakers through their Work. 1800 - 1950".
For more detail see: LIEGE GUNMAKERS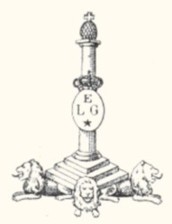 Establishments Léonard André
Here a small revolver of Belgian manufacturing gauges 6.35 of uneven type of them, with folding trigger, opening "topbreak" resembling by far to a Smith & Wesson. The squared plates of grips are maintained by a transverse screw.
Markings
R crowned: rifled bore between 1894 and 1968
PV surmonted by a little Lion: test with the smoke-free powder, between 1898 and 1968
ELG in an oval under crown: acceptance between 1893 and 1968
J under star: countermark of the controller between 1877 and 1968
6.35 Br: gauge 6.35 Browning (this ammunition was born around 1906)
Under the plates: "QR" under crown? not identified, and "LA" for the Establishments Léonard Andre?
LLH: could be Laurent Lochet-Habran, house founded in 1860. It deposited three patents between 1884 and 1897 but they have nothing to do with the revolver in question. It also deposited a trademark in Liege in 1904.
Between the two wars, the house was especially active in the manufacturing of barrels of quality.
GP