Some of the most beautiful work of this craftsman, and many others, are in this book "Liège Gunmakers through their Work. 1800 - 1950".
For more detail see: LIEGE GUNMAKERS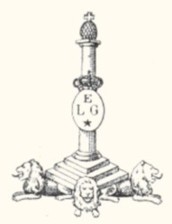 André M. J.
Single Barrel Shotgun probably smoothbore
The PINFIRE lock of the back action type.
The side plate is maintained by only one screw.
The opening system is the double Lefaucheux key.
The English style stock is made of smooth WALNUT wood.
The octagonal barrel is in Ribbon-Damascus. I don't know the calibre.
"Dolphin" type hammer.
I could only find two Liege proofhouse stamps, i.e:
Crowned ''H'': countermark of the controller, in use from 1846 to 1877.
Peron: inspection stamp post 1853.
The weapon was therefore manufactured between 1853 and 1877.
The name of the manufacturer is engraved on the lock, namely Mr. J. ANDRE .Arquebusier Breveté - CHARLEROI.
He registered, in 1864, a Belgian patent for a breech loading rifle.
GG