Some of the most beautiful work of this craftsman, and many others, are in this book "Liège Gunmakers through their Work. 1800 - 1950".
For more detail see: LIEGE GUNMAKERS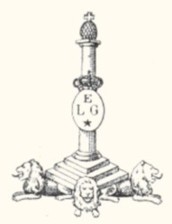 Joseph Baiwir
The weapon
It is about a shotgun to vertical percussion (pinfire) Lefaucheux kind.
The barrels are juxtaposed and smooth of gauge 16,6mm.
Locks are types with external hammers behind.
The closing of the weapon is practiced using a double Lefaucheux key.
The double trigger is protected by a trigger guard with volute.
The metal buttplate is on return.
The metal parts of the weapon carry an engraving to checkerwork.
The stick out of wooden of walnut is worked "with English".
Punches
The weapon carries the punches of the proofhouse of Liege, namely:
ELG on star in a vertical oval: final acceptance, of use of 1846 to 1893.
EL in English letters: provisional test, of use of 1852 to our days.
Peron: inspection post 1853.
16.6: gauge in mm.
Markings
Crowned JB struck the barrels could be the mark of the manufacturer of barrels of rifles Joseph BAIWIR of Forest Trooz (Liege).
ER crowned in a vertical oval: This mark whose reading is very dubious is unknown as such in documentation. If they were very close letters EB it could acts of the mark of Ernest BERNARD arms manufacturer of Liège known for the deposit of two patents in 1864 and 1865.
GG