Some of the most beautiful work of this craftsman, and many others, are in this book "Liège Gunmakers through their Work. 1800 - 1950".
For more detail see: LIEGE GUNMAKERS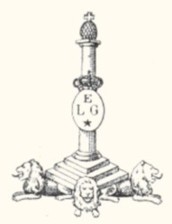 BALTUS
Shotgun "hammerless" with unrifled bores and juxtaposed.
The opening is practiced using the key "Top lever".
The lock is square and decorates in hollow bottom with subjects animalist.
The stick out of wooden of walnut is worked with English. The forearm is with push rod.
Punches
The weapon carries the punches of the proofhouse of Liege, namely:
ELG on star in a crowned oval: final acceptance post 1893.
EL in English letters: provisional test, of use of 1852 to our days
X and AE spangled: countermarks of the controllers post 1877.
12 C in a rhombus: gauge, of use of 1898 to 1924.
Peron: inspection post 1853.
PV surmounted of a stylized lion: test with the powder without smoke, of use of 1898 to 1968.
P.1K542.2: weight of the barrel which can draw from the powders without smoke (smooth weapons). In use of 1892 to 1924.
D= 65 mm/20.6: length of the room in mm and diameter in mm after optional test with the powder without smoke. In use of 1892 to 1924.
Marks
DICTATOR: in fact CHARLEMAGNE with horse also named IMPERATOR marks deposited the 24.07.08 by the FABRIQUES D'ARMES REUNIES (JOINED TOGETHER ARMS FACTORIES) (F.A.R.) street Trappé, 22 in LIEGE. (See the site)
EPROUVE AUX POUDRES PYROXILEES (TEST WITH POWDERS PYROXILEES): indicative and advertising mention of the F.A.R.
ACD in a circle on the barrels: mark of the manufacturer of barrels of rifles BALTUS in Nessonvaux.
GG