Some of the most beautiful work of this craftsman, and many others, are in this book "Liège Gunmakers through their Work. 1800 - 1950".
For more detail see: LIEGE GUNMAKERS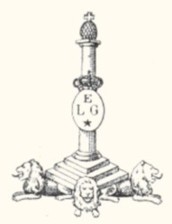 C.BEAUDUIN
A Fine Quality ''French style'' flintlock Fowling Piece by C. Bauduin of Liege.
Frizzen spring with inside screw and curled frizzen end.
Goose neck hammer and ringless top jaw screw.
The trigger is protected by a curled trigger guard.
The enveloping butt plate is nicely ornamented and the side plate is chiseled and engraved with animals and flowers, like other metal parts.
Barrel Signed Lazaro Lazarino, c. 1760-80, an indication that this gun was made for export to South Americ
.54 caliber smoothbore, 41 3/4-inch stepped down barrel, with faceted and fluted breech, inscribed on top: * LAZARO * LAZARINO *; Lazarino mark on left side of barrel at breech; muzzle slightly flared; blade front sight.
Engraved lock signed in a banner: C.BAUDUIN A LIEGE; game scene and scroll engraving on lock, matching scroll and floral decoration on steel triggerguad, buttplate and sideplate. This is a Liege workshop operated by Charles Bauduin & Bros from 1750 to 1790.
Full length fluted Madrid style select walnut stock, with relief carved scroll motif behind barrel tang and behind main ramrod ferrule; carving borders lock, sideplate, ramrod channel, triggerguard and triggerplate. Rain proof pan and frizzen. Elaborate buttplate with toeplate, terminating top and bottom with vase motif. Silver wire inlaid scrolls on top of wrist. Horn fore-end cap. Wood ramrod with horn fore-end. Sling swivel near muzzle; stud for sling on stock to rear of triggerguard.
Unfortunately I have no other info on this workshop and will be glad to hear from our
readers
The stamp on barrel (Crowned SHIELD with part of letter ''H'' is only partly visible.
I assume it's BAUDUIN's Stamp and it would be interesting to see it entirely.
GG
Note: Bauduin listed in Stockel, volume 1, p. 30, with dates 1750-1790, Liege. Correct name for Lazarino: Lazaro Cominazzo III, worked late 17th and early 18th century, as noted in Enzeo Malatesta, Armi ed Armaiole di Italia, p. 111.