Some of the most beautiful work of this craftsman, and many others, are in this book "Liège Gunmakers through their Work. 1800 - 1950".
For more detail see: LIEGE GUNMAKERS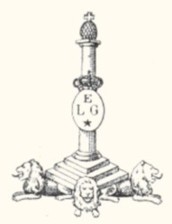 BAUMANN son Manufacturing Co.
From the accidental discovery of an envelop letterhead dating from the beginning of 20th century, we have been able to gather some elements of the activity of a little known Liege arms manufacturer.
As a matter of fact, we found that the firm BAUMANN Emile son 57 Maghin street , in Liege was registered with the Liege Proof House from 1904 to 1913.
This firm registered a Belgian patent for a locking system for break-open barrels guns.
To date, that's about all that one could write on the activities of this quite modest firm.
The envelop reproduced below shows a pistol, unfortunately hidden by postal stamps.
Thanks to the sagacity of Doctor Dirk Ziesing, we learn that it is ROTH-SAUER caliber 7,65 Roth-Sauer which was a predecessor to the ROTH-STEYR M.1907.
This weapon could have been used in the Colonial Police Force in Africa.
Unfortunately, we do not know if BAUMANN manufactured this gun under license or if he was an importing salesman, in short any information on the subject would be the welcome.
GG
It should be noted that it's one of the very rare automatic pistol considered as "Panoply Weapon" by the Belgian Gun Law. Its patent goes back to before 1890 and it fires a (black powder) caliber7.65 ammunition.
Alain