Some of the most beautiful work of this craftsman, and many others, are in this book "Liège Gunmakers through their Work. 1800 - 1950".
For more detail see: LIEGE GUNMAKERS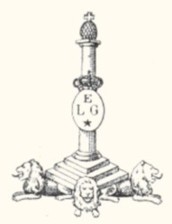 F. J. Bazin
From times to times we stumble on an unknown gun like this one made in the early 18th. C. by an unknown (until today) Liege maker. This event is interesting since it will complete our knowledge.
THE GUN
Here we have a flintlock travelling pistol from the early 18th century.
Converted to percussion probably Ca. 1840.
The flintlock unnecessary holes in the lockplate have been plugged, the flint cock replaced by a percussion hammer, and a percussion nipple has been installed on the barrel in front of the touch hole.
The lock is engraved F.J. Bazin a Liege, in english style letters.
The barrel is octagonal at breech and becomes round towards the muzzle.
It carries a small half-moon front sight. Its smooth bore and caliber are not known.
Attached to the stock by 4 pins and a wood screw at the breech tang.
A steel ramrod with brass head, located under the barrel, is retained to the gun by two steel thimbles.
The three part side plate has two screws and is lightly engraved with foliage.
The trigger is straight under the trigger guard.
Full length stock of blackened wood, ending with a metal cap with ears and a ring.
This stock also features sculpted foliage around the breech tang, as well as scroll silver inlays.
Any info on F.J Bazin will be welcome.
GG
Many thanks to Jacques for the nice pictures