Some of the most beautiful work of this craftsman, and many others, are in this book "Liège Gunmakers through their Work. 1800 - 1950".
For more detail see: LIEGE GUNMAKERS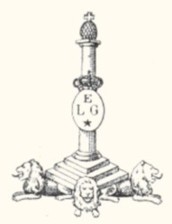 BELGIAN ARMS Cie
This weapon is a "mixed" shotgun with an unrifled bore of gauge 16 and one rifled bore of gauge 7,3 mm if I believe the punch of it on the gun!
THE BELGIAN ARMS Cie does not appear in the file of manufacturers, it should be known that in LIEGE certain associations were done and demolished themselves with the liking of the orders. The fact that this denomination is in English shows well that it is about a weapon intended for export.
In enclosure a document of THE BELGIAN GUNMAKERS ASSOCIATION of LIEGE which is it only company taking again term BELGIAN!
To also note that the letter "f" into tiny is the yearly letter of 1927!
GG