Some of the most beautiful work of this craftsman, and many others, are in this book "Liège Gunmakers through their Work. 1800 - 1950".
For more detail see: LIEGE GUNMAKERS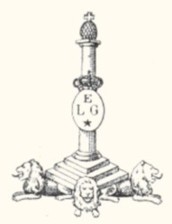 Eugène Bernard
The weapon
It is about a shotgun to juxtaposed barrels with central percussion and external hammers. Locks are of type "behind" nicely engraved floral and animalist reasons.
The opening of the weapon is practiced using the key of trigger guard.
The juxtaposed barrels are in Damas
Markings
EB crowned in an oval: mark manufacturing (barrels?).
Peron: punch of inspection (1853 at our days) of the proofhouse of Liege.
Spangled ELG in an oval: acceptance of the test of Liège, of use of 1846 to 1893.
The last not easily readable mark can-to be the letter Q joined with C under crown? This mark is unknown for me.
The manufacturer
I count 15 arms manufacturers carrying the patronym of Bernard, in Liege, at the 19th century.
I have an Emile and a Ernest but not of Eugène.
The study of arms manufacture of Liège of the 19th century does not have anything an exact science because the traces which reach us in dispersed order and were the subject of no serious publication at the 20th century.
According to Jarlier, Bernard Henri Eugene was a manufacturer of barrels of rifle in Liege in 1840.
He announces himself by the registration of a trademark on January 18, 1862. I unfortunately could not discover more information on this craftsman?
The weapon is marked (barrel and lock) Flobert Bté to Paris, it acts of course of the inventor of this weapon. Maintaining like determining which did what on this part. The barrels without question were manufactured in Liège, Bernard being a probably manufacturer of barrels of rifles. The punches of tests of Liège are visible ON the barrels and not elsewhere!
I think that Flobert bought the barrels in Liege and manufactured the remainder of the weapon in Paris but that remains to prove?
GG