Some of the most beautiful work of this craftsman, and many others, are in this book "Liège Gunmakers through their Work. 1800 - 1950".
For more detail see: LIEGE GUNMAKERS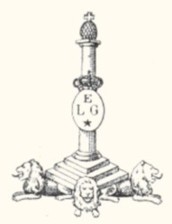 Bernimolin & Cap breveté
Belgian Pinfire Pepperbox with detachable barrel, fireable with or without long barrel. The barrel is marked, B&C Breveté, the detachable barrel is 6 inches long.
Thanks to "ANTIQUEGUNS" for the pictures
I think that this is a center fire transition revolver, with folding trigger.
I did not see any stamps of the Liege proof house ?
The mark B & C could possibly correspond to BERNIMOLIN & CAP, 2 rue des Chapelains ,in Liege, which was registered with the Proof House from 1882 to 1885.
Unfortunately I do not have any other elements to be 100% affirmative .
GG