Some of the most beautiful work of this craftsman, and many others, are in this book "Liège Gunmakers through their Work. 1800 - 1950".
For more detail see: LIEGE GUNMAKERS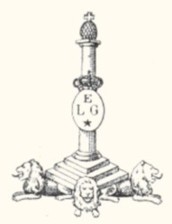 Boden
Knife-gun "Ouvrier" (working)
Very pretty small knife-gun - gun with percussion, barrel round, smooth, a 105 mm length, simple action, 1 shot, calibres 8 mm, combined with a collapsible blade (115 mm), a car-ball in the shape of gimlet (52 mm) and a desamorcor (105 mm). All the metal parts are nickel.
Mountings are engraved in foliages, heads of animals and escutcheon surrounded by sheets of bay-trees, the plates, gutta-percha of it way ivory nicely engraved in the beginning (a little unobtrusive) of scenes of hunting putting in scene an archer, right side, and a gunner with rifle, on the left-hand side, where appears the "Ouvrier" (Working) word.
Rawhide case.
Operation
One inserts powder and ball in the barrel by the mouth and on the chimney a starter (capsule) of fulminate after having manually armed the hammer, one unfolds the desamorcor (or cleans pipe) who acts as handle, the gimlet (corkscrew?) exit being used as trigger. Remain to give the blow of thanks to a wounded animal.
Punches
Nothing. What could be explained by the fact why this "tool" was not to be regarded as a weapon at the time.
Markings the manufacturer
Ouvrier (Workman): visible on the left plate, probably the name of this small accessory of hunting (?) multi uses.
Boden à Nanur: Engraved under the plate, name of the manufacturer – Who's Who Arms manufacture of Liège mentions Boden L. (1847/1851) without other precise details. Perhaps is it about the same?
Many thanks to the "Comptoir Français de l'Arquebuserie" for the authorization to photograph.
HPH