Some of the most beautiful work of this craftsman, and many others, are in this book "Liège Gunmakers through their Work. 1800 - 1950".
For more detail see: LIEGE GUNMAKERS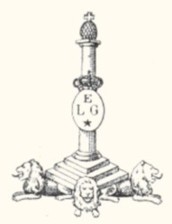 Bodson N.
Nice carrying/travelling case, lined with red baize and bearing, in the English manner, the paper label of the manufacturer: N. BODSON, arquebusier Brevete, Gunsmith to His Majesty the King of the Netherlands, 23 Faubourg d'Amercoeur, in Liege.
A quality gun, this is a 12 gauge shotgun without any doubt.
The smooth bore Damascus barrels and connected to each other by a smooth metal band probably tin soldered.
The Who's Who in Arms Manufacture in Liège, lists several arms manufacturers named BODSON, including three whose first name starts with the letter N.
Most probable should be BODSON N. of Liege, which deposits three patents between 1881 and 1884.
Let's now have a better look at this gun:
Side by side shotgun
12 gauge
Damascus barrels
external hammers
inletted locks
extractor for empties
snake shaped locking key located on the right side.
English style walnut tock.
It also bears a Gold monogram which is probably that of the first owner.
The weapon also carries the punches of tests of Liège, namely:
Star/ ELG in a crowned oval: acceptance post 1893.
Perron: inspection post 1853.
Star/X and Y : counter marks of the controllers post 1877.
12C in a lozenge on point: gauge, in use from 1898 to 1924.
EL in cursive letters: provisional test, of use of 1852 to our days.
Choke 17.9 18.3: choked barrels: calibre in mm – taken at 22 cm from the breech and at the mouth, in use - 1898 to 1910.
NON POUR BALLE (NOT FOR BALL): unrifled choked bores, in use from 1878 to 1897. The mention PAS POUR BALLE stamped on the gun is not present on the list of the Proof House.
Period of manufacture: undoubtedly between 1898 and 1910.
The weapon is also stamped N.BODSON BREVETE (PATENTS). Without the actual patent, it's impossible to know what is the nature of this invention.
GG