Some of the most beautiful work of this craftsman, and many others, are in this book "Liège Gunmakers through their Work. 1800 - 1950".
For more detail see: LIEGE GUNMAKERS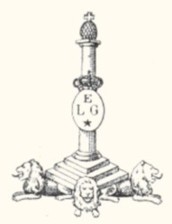 BONZON & ARENTS & Cie
This is a very conventional revolver of the Bulldog type, the description of which has been made on several occasions.
The mark is interesting but unknown!
The manufacturer of this weapon could reasonably be BONZON² & ARENTS & Co, manufacturers of weapons 17 rue Fusch, in Liege.
They were registered with the Liege Proof House from 1886 to 1890!
The company registered three patents in 1886 in particular for a revolver system.
GG