Some of the most beautiful work of this craftsman, and many others, are in this book "Liège Gunmakers through their Work. 1800 - 1950".
For more detail see: LIEGE GUNMAKERS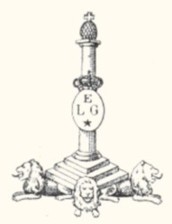 Ad BOUQUIN
A 12 gauge centerfire side by side smooth bore Shotgun.
The lock is of hammerless type with "top lever"key .
Safety is not visible on the photographs but I suppose that it is placed on the breech tang and is of slide type .
The pistol grip walnut stock.
The weapon bears the stampss of the Liege Proof House, namely:
STAR/ELG in a crowned oval: acceptance post 1893.
STAR/AA: countermark of the controller post 1877;
PV surmounted by a stylized lion: test with the smokeless powder , in use from1898 to 1968.
1Kg 353: weight of the barrel tested for smokeless powder (smooth bores) to the gram.
In use of 1924 to our days.
12-55 in an lying omega : nominal gauge and length of the shotshell. In use of 1924 to our days.
Greek letter Mu: yearly letter of 1955. Year of manufacture of your weapon.
Other markings are:
Crown/D on the barrels: mark of the barrels manufacturer DELCOUR O&L ,Fraipont Nessonvaux. (See site : http://www.littlegun.be/arme%20belge/artisans%20identifies%20d/a%20delcour%20dupont%20gb.htm )
Ad BOUQUIN on the band between the barrels. This name should normally be that of the manufacturer of the weapon, i.e. the one who put together all the parts of the weapon.
However he is not known in our documentation. It could then be the name of the first owner of the weapon, it is very possible.
We keep researching.
GG