Some of the most beautiful work of this craftsman, and many others, are in this book "Liège Gunmakers through their Work. 1800 - 1950".
For more detail see: LIEGE GUNMAKERS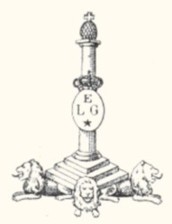 CHEFNEUX J.J. (Perhaps !!)
It is about a revolver of the Lefaucheux type, with open frame but to central percussion.
The cylinder is smooth and contains 6 rooms (gauges?)
The barrel is octagonal with front sight elevated grain of barley.
The loading is practiced by the side door dropping using an internal spring while the unloading of the casings is practiced one by one thanks to the action of the rod sliding in a guide integrated into the console and maintained by a small leaf spring.
The stick consists of two plates out of wooden (of drowning?) smooth, joined together by a screw and two rivet washers with ears.
The trigger is folding without trigger guard.
The weapon carries the lawful punches of the proofhouse of Liege, that is to say:
ELG on star in an oval: final acceptance, of use of 1846 to 1893.
M under star: countermark of the controller port 1877.
The weapon was thus manufactured between 1877 and 1893.
The other marks are visible only on the amounts of stick, namely:
JC under crown: this mark is not identified with certainty, these initial could belong to various manufacturers like:
- CAPE J. (father) 1886/1907.
- CHAINEUX Joseph 1864/1884
- CHAUMONT J (Son) 1863/1869
- CHEFNEUX J.J about 1887.
- CLOES J.J about 1867.
- CLOSSET Joseph 1871/1888.
LF: it is about a mark of subcontractor not identified.
GG