Some of the most beautiful work of this craftsman, and many others, are in this book "Liège Gunmakers through their Work. 1800 - 1950".
For more detail see: LIEGE GUNMAKERS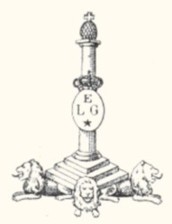 Christophe Louis
"Mechanical engineer" in Liege and Brussels
Thanks to "Hallantique" for the pictures
L. CHRISTOPHE
The weapon.
The gun.
This is a 12 gauge side by side smooth bore shotgun for small game..
The lock is known as centerfire "hammerless" - Opening by top lever key.
The stock is of English type ; forearm with press stud.
The locks are engraved in English style.
STAMPS
They are the stampsof the Liege House of Proof , detailed as follows:
STAR/ ELG in a crowned oval: acceptance - 1893/1968.
Peron: inspection - 1853 until today.
PV surmounted by a stylized lion: test with smokeless powder - 1898/1968.
12 C in a lozenge: gauge - 1898/1924.
EL: provisional test - 1852 until today.
STAR/ AC and X: counter marks of the controllers - 1877/1968.
P1K296: weight of the barrel for smokeless powders (smooth bore guns) 1892/1924.
The gun was thus manufactured and tested between 1898 and 1924.
The manufacturer.
It is not necessarily a gun manufactured by Louis CHRISTOPHE, but perhaps sold by him after engraving his name on the weapon. It was a very current practice at the time.
Indeed mark Crown/JB on the frame would be that of the craftsman. This mark is unknown to me. It could possibly, considering the period concerned , be that of:
BERTRAND Joseph (1885/1930).
BURY Jules (1896/1947).
If a visitor can identify this mark, his input will be welcome.
GG
Photos Littlegun