Some of the most beautiful work of this craftsman, and many others, are in this book "Liège Gunmakers through their Work. 1800 - 1950".
For more detail see: LIEGE GUNMAKERS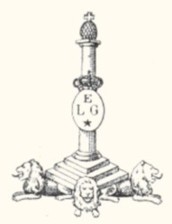 COLARD Louis (Maybe)
It is indeed a MARIETTE revolver with screw often described on the website.
This one carries a mark of manufacturer who does not appear in my documentation!
In any assumption, I then to give two names but without more!
COLARD Louis, arms manufacturer in 1865, author of 2 Belgian patents!
COUNET Léonard of Feneur (Liege) 1859/1874 - author of 3 patents.
I don't have ANY certainty of course!!!
GG