Some of the most beautiful work of this craftsman, and many others, are in this book "Liège Gunmakers through their Work. 1800 - 1950".
For more detail see: LIEGE GUNMAKERS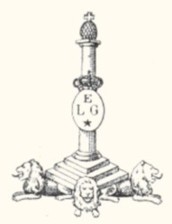 M.N. COLEYE
This is more an army rifle that a hunting gun, centrer fire, 13mm caliber.
The grooves are helicoidal.
This is a top break gun featuring a curious opening system located in front of the breech frame.
By only actuating a kind of trigger lever, the weapon opens, also actuating cartridge extraction.
The weapon is 1255 mm long and the barrel is 870 mm
The pear-shaped metal cleaning rod measures 680 mm and is threaded at bottom while its hollow top part is 13 mm long.
The round barrel is mounted at its end with a bayonet bar thus attesting its military vocation.
This barrel is also mounted with a rearsight with slide marked 1120 on top and graduated towards the bottom from 4 to 11.
The weapon is marked M.N. COLEYE BREVETE and is most probably of Liege origin.
However no COLEYE with only one L is listed in the Liege arms manufacturers .
Several COLLEYE are known, like COLLEYE M.N arms manufacturer in Hoignée Cheratte. This one was distinguished by the registration, in 1855, of a patent for a pistol with a sliding block but nothing in regard to the present gun??
So far nothing has been found on researching a corresponding COLEYE or COLLEYE patent Any info from a reader/scholar will be appreciated.
GG