Some of the most beautiful work of this craftsman, and many others, are in this book "Liège Gunmakers through their Work. 1800 - 1950".
For more detail see: LIEGE GUNMAKERS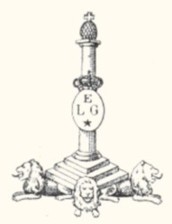 H. Colleye
 H. Colleye "Brevete" Percussion Ring Trigger Cased Revolver: 36 cal., 6-shot rd. cyl., 5 1/4" oct. bbl, 11 1/2" overall length.
This revolver is cased in an original walnut compartment case with maroon lining.
The case has a Beaty compartment flask, powder measure, bullet mold, bullet puller, ramrod, ebony and horse hair brush, screwdriver, cap tin, and original case key.
Many thanks to "CWSLAGLEANTIQUES" for the photos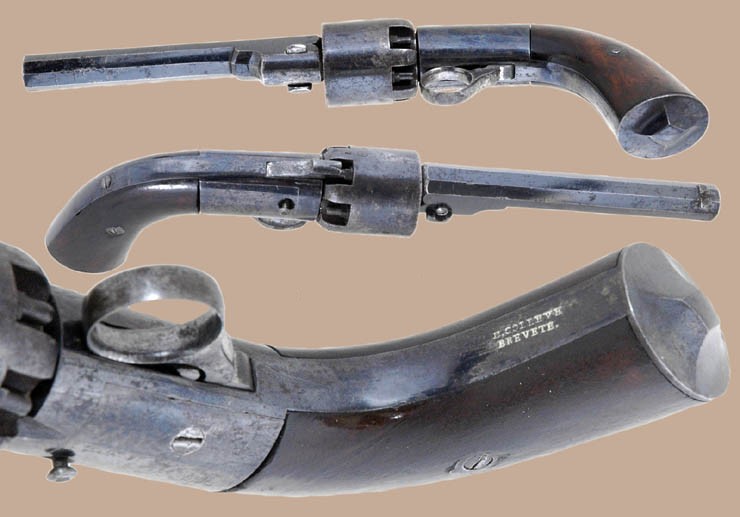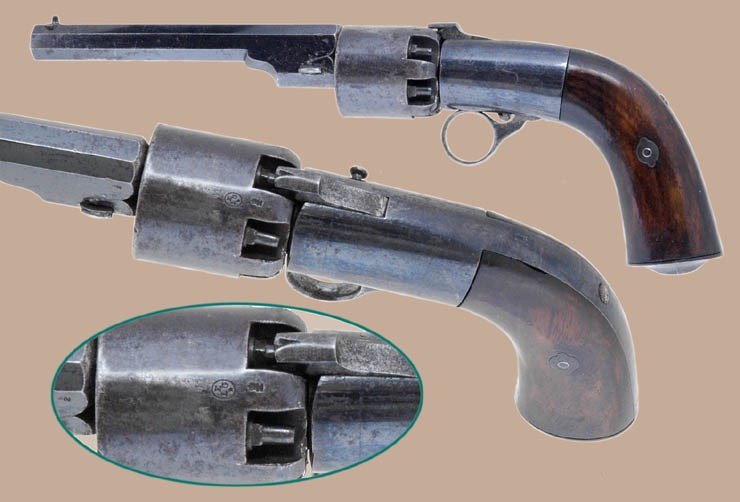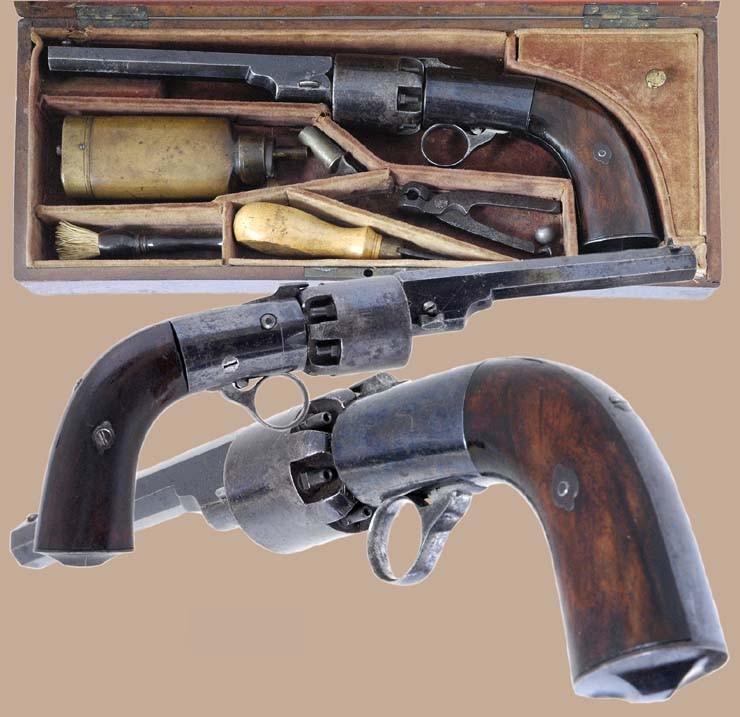 Colleye
The PARLOR Gun of H.J. COLLEYE
Henri-Joseph COLLEYE was an arms manufacturer in CHERATTE near LIEGE in the years 1850 - 1860.
He was distinguished by an inventive mind since he does count no less than eleven patents to his credit.
In particular, the parlor gun subject of this article.
This 4 mm caliber single shot gun was intended for pleasure shooting at short distance.
In his patent n° 6529 of August 26, 1852, Henri-Joseph COLLEYE describes his invention himself as follows:
"With this new percussion system one can shoot with or without powder and the load, placed inside the nipple , is placed on the same side as the capsule, this last one adapting outside this nipple.
Explanations of the figures of the annexed blue print:
N° 1 -Frame with barrel.
N°2 – nipple which receives the load and the capsule. This nipple adapts to the barrel.
N°3 – Hammer with milled head to prevent remains of the capsule to fly towards the shooter.
N° 4 Hidden trigger with spring and hook.
N°5 - Main spring.
N° 6 - The complete gun
While pulling the hammer, the gun is cocked and the hidden trigger pops out of the frame from under and stays there, being retained by a hook. When touching this trigger, the hammer falls, crushing the capsule and shooting the gun.
Made in CHERATTE 26 Août 1852
H.J. COLLEYE
For the collector, this is undoubtedly a relatively rare system gun.
GG