Some of the most beautiful work of this craftsman, and many others, are in this book "Liège Gunmakers through their Work. 1800 - 1950".
For more detail see: LIEGE GUNMAKERS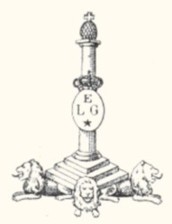 Counet-Leboulle J.
The weapon
Pistol mono-barrel and with top break bound for shooting of precision. According to catalogue H.D.H. it's of the type IRA PENN of the name of a famous American shooter of the 19th century. (See enclosure)
The long barrel is striped and comprises a front sight with ears. The trigger guard is with rest-finger to ensure a good stability. The bead is adjustable in height.
The stick with step seems to be out of wood of walnut squared and cast solid. It is maintained by a transverse screw and two rivet washers.
Punches
The weapon carries the lawful punches of the proofhouse of Liege, namely:
ELG on star in a crowned oval: final acceptance post 1893.
E spangled: countermark of the controller post 1877.
Peron: inspection post 1853.
R crowned: rifled bore, of use of 1894 to 1968.
Marks
FL6mm: indicate that the weapon is of gauge 6mm Flobert to annular percussion.
Mark D.J. COUNET on an amount of grips, could possibly be that of COUNET-LEBOULLE J. (1885) of Saint Remy (province of Liege).
He is the author of a Belgian patent for a safety or set screw preventing the shooting and applicable to pistols etc
GG