Some of the most beautiful work of this craftsman, and many others, are in this book "Liège Gunmakers through their Work. 1800 - 1950".
For more detail see: LIEGE GUNMAKERS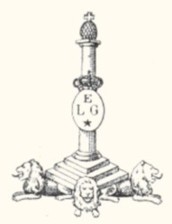 Danthine Nicolas
It is about a shotgun top break to central percussion. The unrifled bores of gauge 12 are juxtaposed. Locks are "ahead" of type "hammerless" and carry a floral engraving. The system of break (opening) is with key (Top Lever) with a safety of the Galand type behind. The trigger is double under trigger guard. The stick is cut "with English" in a wood of walnut fair European.
The weapon carries the lawful punches of the proofhouse of Liège, street melts of Tawes, namely:
ELG* in a crowned oval: final acceptance, of use of 1893 to 1968.
P* and M*: countermarks of the controllers, of use of 1877 to 1968.
12-70 in a letter omega: gauge nominal and length of the casing, of use of 1924 to our days.
PV surmounted of a stylized lion: test with the powder without smoke, of use of 1898 to 1968.
EL in English letters: provisional test, of use of 1852 to our days.
1Kg 319: weight of the barrel which can draw from the powders without smoke (weapons smooth) except for the gram. In use of 1924 to our days.
Choke 18.3 - 18.4: chokes barrels, gauged to 22 cm of the breech, of use of 1924 to 1968.
Letter "d": yearly letter of 1925. (Year of manufacture!).
The weapon also carries the following marks:
Letter D crowned: mark of factory of the manufacturer of barrel Delcour.
First class cruscible steel: crucible steel of first class.
1424: classification of the guns.
U.B?? (Partially unobtrusive Mark): no identifiable.
Nicolas Danthine Liège: mark of manufacturer Danthine Nicolas registered with the proofhouse of Liège of 1909 to 1926. Arms manufacturer established street Henri Maus, 45 in Liège. In 1909, it takes again the activity of Lemaire Charles, Lemaire J.B. and Danthine Joseph. From 1926 until 1954, the activity continues under the corporate name of "Danthine, Nicolas Fils".
GG