Some of the most beautiful work of this craftsman, and many others, are in this book "Liège Gunmakers through their Work. 1800 - 1950".
For more detail see: LIEGE GUNMAKERS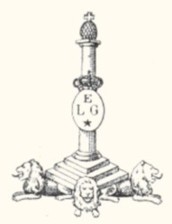 Dardenne Augustin
The weapon
Shotgun to juxtaposed and striped barrels, with lined balls (9,3 X 74R).
Locks are of hammerless type with closing "Top Lever".
The forearm is with push rod.
The stick out of wooden of walnut is "with English" with cheek.
The metal parts are engraved with English and in hollow bottom.
Punches
The weapon carries the punches of the proofhouse of Liege, namely:
ELG on star in a crowned oval: final acceptance post 1893.
G spangled: countermark of the controller post 1877.
R crowned: rifled bore, of use of 1894 to 1968.
El in English letters: provisional test, of use of 1852 to our days.
PV surmounted of a stylized lion: test with the powder without smoke, of use of 1898 to 1968.
B BLINDEE: rifled bores of gauge higher than .22 for lined balls. In use of 1910 to 1968.
Greek letter sigma: yearly letter of 1959. Year of manufacture of the weapon!
The engraver
It is about F. DUPONT (engraver of Liège?) unfortunately unknown of our imperfect documentation. No statement of the engravers on weapons of Liège never seems to have been carried out.
The manufacturer
Only the name of DARDENNE is engraved on the lock among the rollers. They could possibly is arms manufacturer DARDENNE Augustin, street Magotte, 212 with HERMALLE/HUY (province of Liege) He was registered with the proofhouse of Liege of 1954 to 1959. In 1959, it takes again the activity of DETIEGE Ferdinand.
GG