Some of the most beautiful work of this craftsman, and many others, are in this book "Liège Gunmakers through their Work. 1800 - 1950".
For more detail see: LIEGE GUNMAKERS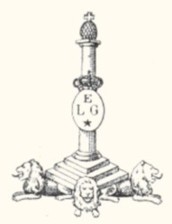 David HN
It's a revolver with percussion with opened framework, calibre 38 according to your statements, the barrel of 6"1/4 is octagonal.
The cylinder is smooth and is equipped with 6 chimneys.
The block barrel and the block breech are joined together by a serrated roller screw placed at the foot of the breech. Once this one removed, the two parts are disunited and the cylinder having been turned towards the left can be withdrawn from its axis for recharging.
A lever tamping-bar is placed on the left side of the weapon and folded up under the cylinder.
The weapon is marked NEUMANN Frères and Cie LIEGE engraved on the higher side of the barrel, it is acted in fact of the firm which manufactured the weapon. Is it a repurchase of patent, of a license of manufacture or an ordering of the inventor DAVID HN whose very small mark is struck under the lever-tamping-bar, we are unaware of it.
The inventor is not known for us. Several DAVID are however announced in Who's Whol arms manufacture of Liège and it is the same in the JARLIER!
The weapon carries the lawful punches of the proofhouse of Liège, namely:
ELG* in an oval which is final acceptance of use of 1846 to 1893.
G crowned which is the countermark of the controller of use of 1853 to 1877.
Manufacturer NEUMANN Brothers and Co street St Remy, 15 in Liege was registered with the proofhouse of Liège of 1860 to 1863 before becoming NEUMANN Frères of 1863 to 1924 for finally becoming NEUMANN & Co until 1952.
GG