Some of the most beautiful work of this craftsman, and many others, are in this book "Liège Gunmakers through their Work. 1800 - 1950".
For more detail see: LIEGE GUNMAKERS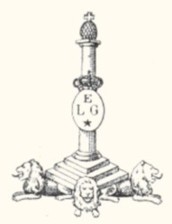 Mathieu DAVID
Mathieu DAVID, of Herstal. Patent deposited in 1875.
Copy patent in appendix.
Michel
Without signature, impossible to be formal, but it seems me that this weapon is inspired by Levaux, Counet and others of the years 1870.
Very beautiful weapon, in any case, and finished very well… you noticed the quality of completion of the details of engraving? The floral reason is banal, but the shades give a beautiful impression of depth.
Mechanics seems me also neat at first sight, in any case on the level of the button of opening to Purdey, much less cumbersome than the doubles or simple pedals of Counet and consorts, and much less prone to inopportune openings caused by fixings in clothing.
I also notice that the head of the hammer comprises a mortise above the striker, in which engages, at the moment of the percussion, a point practiced on the top of the console of barrel. This provision also avoids any accidental opening at the time of the shooting and increases the compactness of the weapon. Besides one finds it on certain Counet and certain models of S&W 3rd model topbreak of the beginning of the years 1870, and perhaps on others weapons.
I think that the bounce of the hammer is not automatic here, but I am not affirmative on this point.
The opening with the exit of star of extraction seems to me traditional, but I also notice the small clutch pedal of the system, visible in front of the hinge, and which allows an opening of the weapon without ejection, for control or complementary loading.
Beautiful part, excel example of the know-how of the craftsmen of Liège of antan.
Marcel