Some of the most beautiful work of this craftsman, and many others, are in this book "Liège Gunmakers through their Work. 1800 - 1950".
For more detail see: LIEGE GUNMAKERS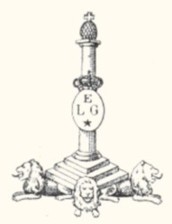 Here is a beautifully engraved shotgun with lock, English stock, sold by De Brauwer in Ghent.
I found the trace of a Widow De Brauwer, Government Street 7 in Ghent in a 1914 directory (but not in another one of 1911...).
Markings
ELG on star in crowned oval: acceptance, of use between 1893 and 1968;
UA and M under star: countermarks of controllers, between 1877 and 1968;
Peron: inspection, of use since 1853;
EL: provisional test, of use since 1853;
12 C in vertical rhombus: indication of the gauge, of use between 1898 and 1924;
CHOKE 18. 3: choked barrel, of use between 1898 and 1910;
JH (?): unidentified;
GHK 1926: probably the initials of one of the owners and the year of purchase?
In spite of the presence of the mention of the year 1926, this rifle was probably manufactured BEFORE 1922, when the Proofhouse of Liege introduced the annals letters.
In principle, it was made between 1898 and 1910, according to the mention of the choke 18. 3.
But there is a "problem" since the De Brauwer house is not in the 1911 directory, but in the 1914 one, as a Widow....
Mysteries!!!
Which does not take anything away from the quality of the rifle.
GP