Some of the most beautiful work of this craftsman, and many others, are in this book "Liège Gunmakers through their Work. 1800 - 1950".
For more detail see: LIEGE GUNMAKERS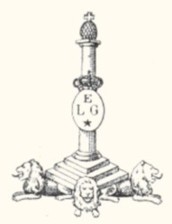 Decortis François Joseph
A very pretty pepperbox, pin fire pistol of an unknown calibre.
The hammer is headless and functions in double action
One has to take out the cylinder which is channeled for six shots to proceed to load it.
One has to push the button situated on the back left side of the pistol to to free the piece blocking it.
The cylinder can then be twisted on it's axis to free it for unloading or reloading.
The trigger can be folded down without sticking.
The grips are made of smooth ebony and are screwed down with a screw and winged nuts.
The metalwork is engraved in the style of Louis XV.
The pistol is proof marked with the marks of 'Liege', meaning:
'ELG' on a star in an oval: accepted for use between 1846 and 1893.
'H' or 'U' under a crown: Controls pass for use between 1853 and 1877.
The other marks are attributed to the maker, meaning:
'F.DECORTIS Bté 9099' : makers mark Decortis, Francois Joseph de Sarolay-Argenteau (Vise -province of Liege) from 1863 to 1866, he created four patents notably for an eight shot pistol, a revolver cartridge pistol and modifications to a revolver cartridge pistol.
416: Serial number
The English letters interlaced lightly on the back face of the cylinder are intelligible by me! Sorry. They are possibly the maker's initials?
GG
(trad.GS)