Some of the most beautiful work of this craftsman, and many others, are in this book "Liège Gunmakers through their Work. 1800 - 1950".
For more detail see: LIEGE GUNMAKERS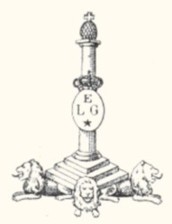 Delcour
Double pistol with rod and percussion. The barrels are "in table" i.e. juxtaposed with the manner of the shotguns.
The band connecting the barrels is marked DAMAS EXTRA. The manufacture of barrels in Damas was a speciality of the area of NESSONVAUX (province of Liege). These barrels bear name (DELCOUR) of one of most famous manufacturer of barrels of the time.
Punches
The weapon carries the punches of the proofhouse of Liege, namely:
ELG on star in a vertical oval: final acceptance, of use of 1846 to 1893.
N and G under star: countermark controllers post 1877.
Peron: inspection, of use of 1853 to our days.
11,2: gauge in mm, of use of 1889 to our days.
EL in cursive letters: provisional test, of use of 1852 to our days.
It arises from the reading of these various punches, that the weapon would have been manufactured between 1889 and 1893.
The manufacturer
As that was often the case, the manufacturer did not leave his mark on the weapon. It is however about a weapon of quality furnished with incrustations (silver?) and equipped with barrels in Damas.
In enclosure, the extract of a catalog MASEREEL in LIEGE presenting the same type of weapon.
GG