Some of the most beautiful work of this craftsman, and many others, are in this book "Liège Gunmakers through their Work. 1800 - 1950".
For more detail see: LIEGE GUNMAKERS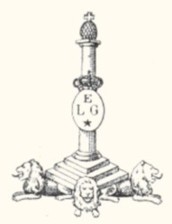 Delcour Herket
This weapon is a shotgun to rod and percussion to be charged by the mouth.
The lock is of type "ahead" with light decoration and the hammers are inevitably outside seen the mode of ignition. The juxtaposed barrels of gauge 17,2 mm are fixed at the barrel by key. The stick of drowning smooth is of type "pistol".
GDH: Is the mark of a manufacturer of barrels of rifles of the valley of Vesdre (province of Liege) to knowing Gilles DELCOUR-HERKET of FRAIPONT which in 1907 was a Master gunners member of the trade union of the manufacturers of barrels of rifles of Vesdre with NESSONVAUX.
FILIP OSIAS BUCHAREST: is the mark damascened on the tape connecting the barrels representing the detailing retailer of the weapon in BUCHAREST ROMANIA, unless that is the name of the first owner but they is more doubtful.
GG