Some of the most beautiful work of this craftsman, and many others, are in this book "Liège Gunmakers through their Work. 1800 - 1950".
For more detail see: LIEGE GUNMAKERS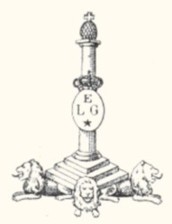 Delderenne Jacques (Maybe)
The weapon
This weapon is presented in a beautiful tended red velvet cassette and containing a powder horn out of brass, an iron ball mould, one limps with starters and one limps with balls.
The weapon is a pistol of voyage to percussion and black powder to loading by the mouth.
It is equipped with a lock "behind" or retrograde.
The barrel with sides is in Damas ribbons as well as the rod head of nail.
It is fixed at mounting by a key and a screw wood with the tail of breech.
The trigger is under iron trigger guard.
Mounting seems to be to walnut some partially squared and ending in a hexagonal metal cap.
Punches
The weapon carries the lawful punches of the proofhouse of Liege, namely:
ELG on star in a vertical oval: final acceptance, of use of 1846 to 1893.
X crowned and Z crowned: countermarks of controller of use of 1853 to 1877.
Period of manufacture: the countermarks above indicate one period of manufacture between 1853 and 1877.
Marks
Mark JD is probably that of the manufacturer but is a little too brief to be identified with certainty. In the list of the arms manufacturers of Liège going back to 1836, we notice two craftsmen there being able correspondent with these initial, namely:
DELDERENNE, Jacques, announced like credit in 1836 but registered with the proofhouse of 1843 to 1848.
DESTRIVAUX J. announced active in 1836.
Marks IIV are in my opinion of the marks of "équipeurs", these workmen used this special marking resembling the Roman numerals to mark their parts.
The retailer
It is obviously about harquebusier LEPAGE-MOUTIER in PARIS, the date of 1842 perhaps indicating the year of foundation of the company? The French harquebusiers were accustomed to buying their weapons in Liege where the prices were very competitive and very correct quality. They marked then these weapons of their own mark before presenting them at the sale in their windows Parisian.
GG