Some of the most beautiful work of this craftsman, and many others, are in this book "Liège Gunmakers through their Work. 1800 - 1950".
For more detail see: LIEGE GUNMAKERS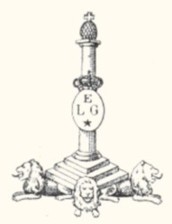 Deville Laurent
On this weapon, the extraction disc is separated from the cylinder by the action of the lever located above the weapon.
The junction between the barrel foot and the cylinder cage is on the mortise and tenon principle.
Cartridge sockets on the disc are bored to facilitate the introduction of new cartridges.
A small guide rod is screwed between 2 chambers on the disc. It penetrates freely into the cylinder.
Total length: 200mm.
Calibre : .320
Marked on the lever band of the barrel L. Deville.
Deville Laurent, of Feneur (1865), then Liège (1865/1869).
He filed four Belgian patents, two of them with Nicolas Rissack.
Pierre A.