Some of the most beautiful work of this craftsman, and many others, are in this book "Liège Gunmakers through their Work. 1800 - 1950".
For more detail see: LIEGE GUNMAKERS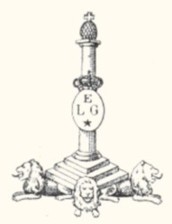 Deprez
DEPREZ without known first name (Belgian bench of test 1843 - 1850)
DEPREZ F. (Belgian bench of test 1874/1876)
DEPREZ V. (Belgian bench of test 1876/1880)
DEPREZ Joseph (Belgian bench of test 1874/1886)
DEPREZ Pierre (Belgian bench of test 1885/1905)
In the directory of 1888, I have 2 manufacturers:
DEPREZ place du Nord, n° 6 (revolvers)
DEPREZ rue du Pot d'Or, 38
DEPREZ, Jean-Mathieu active about 1860 but I do not have any inscription with the Belgian bench of test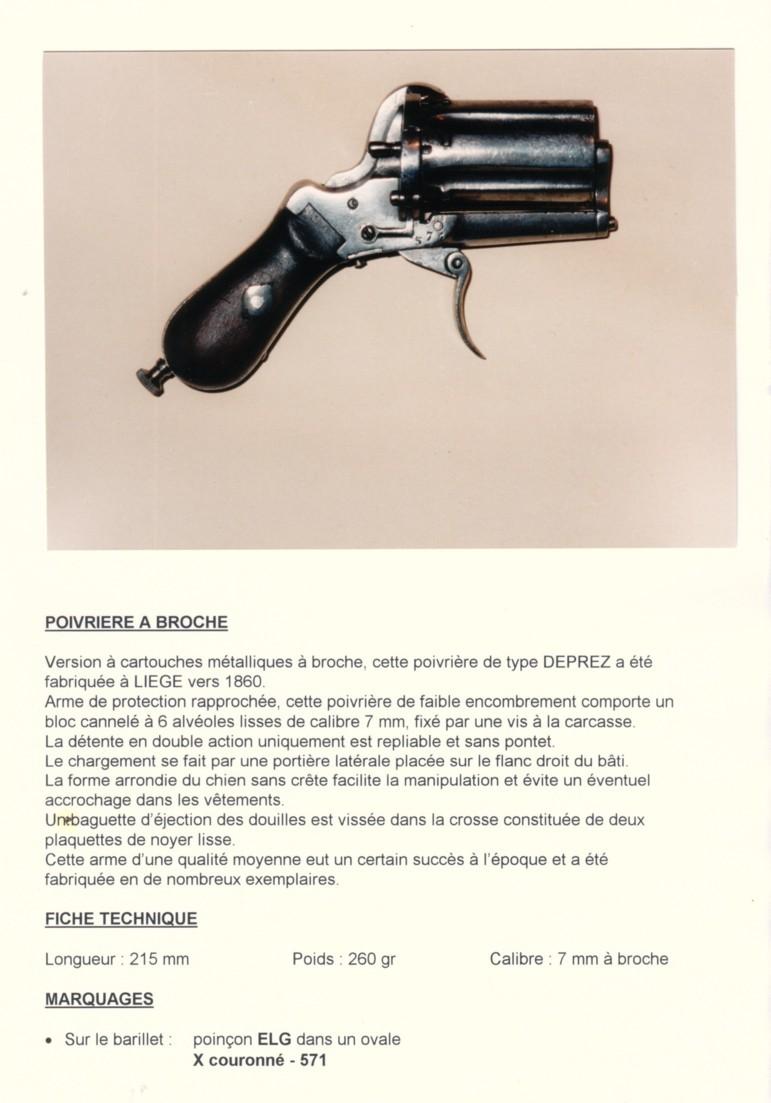 Deprez
Belgian Pinfire Pepperbox by Deprez: 6-shot Fluted cylinder in 7.5 mm caliber. Folding trigger.
Many thanks to "CWSLAGLEANTIQUES" for the photos.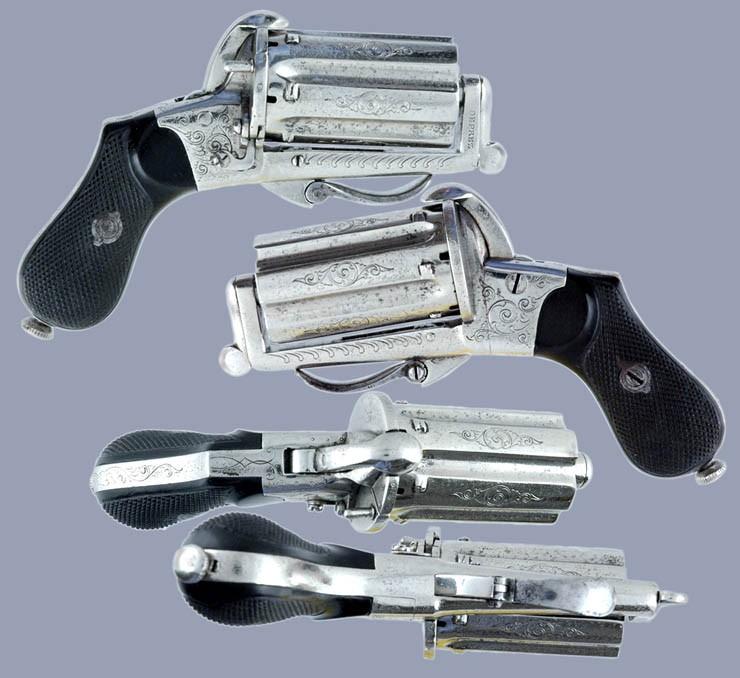 Another peperbox Deprez.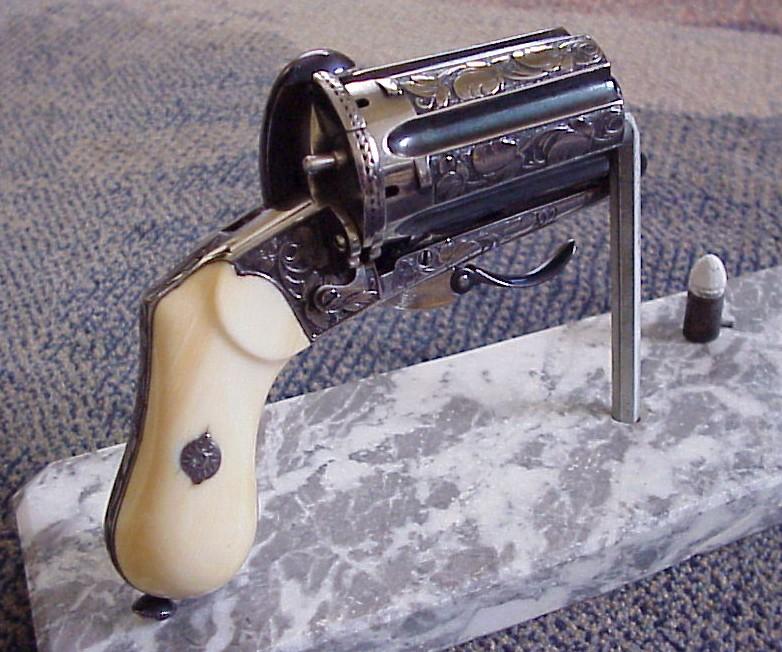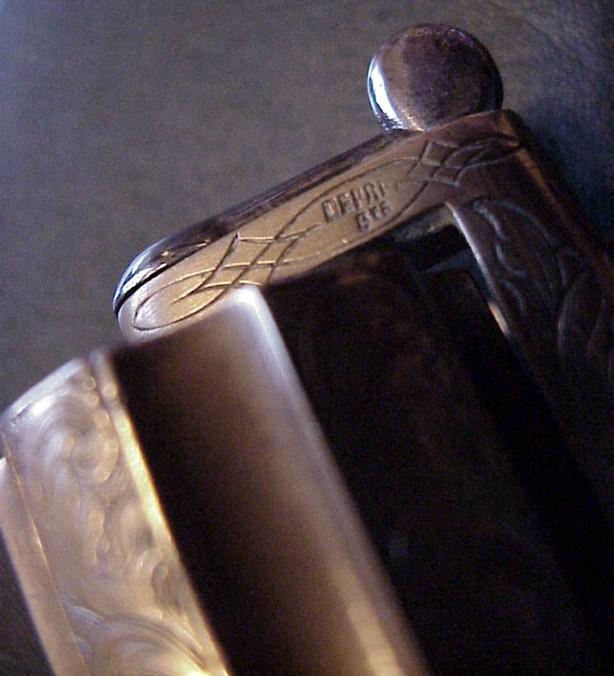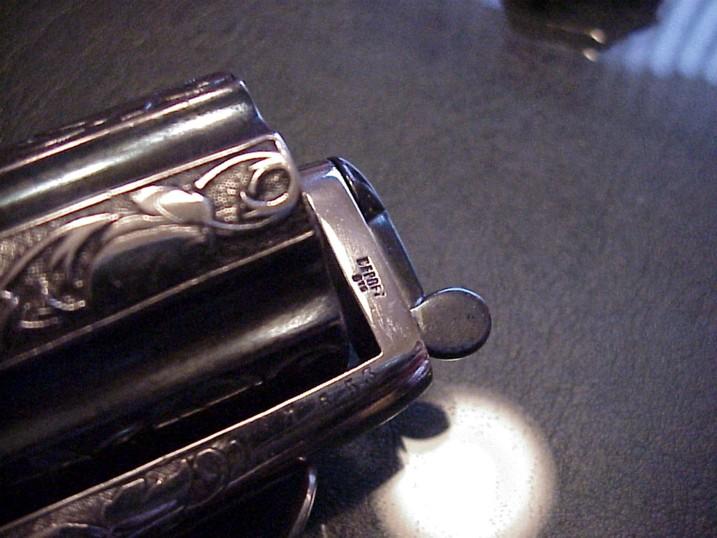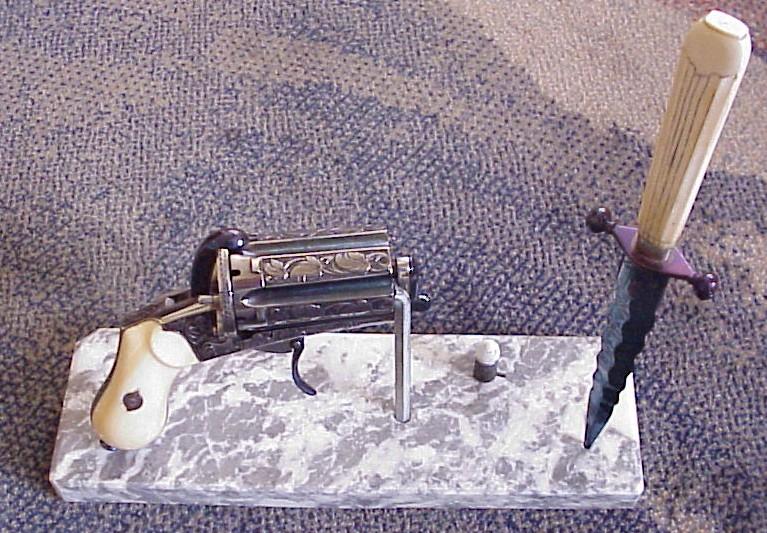 Deprez
Peperbox 7mm pinfire, bronze carcass.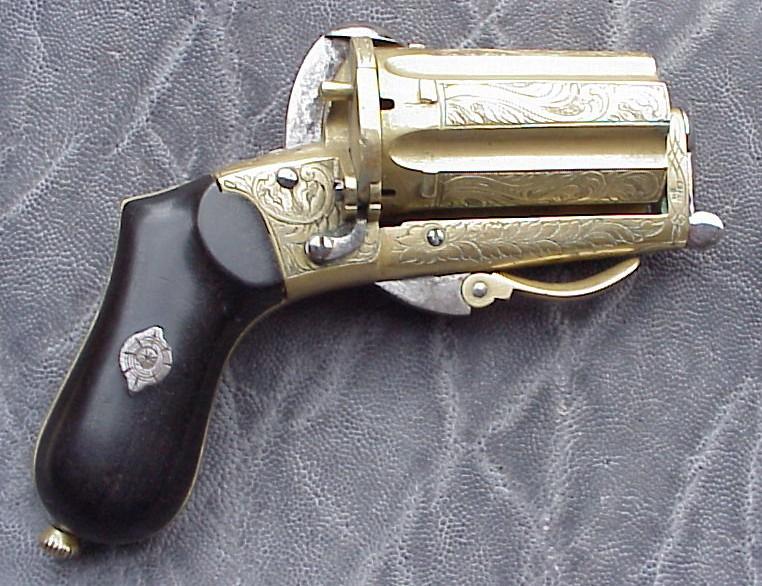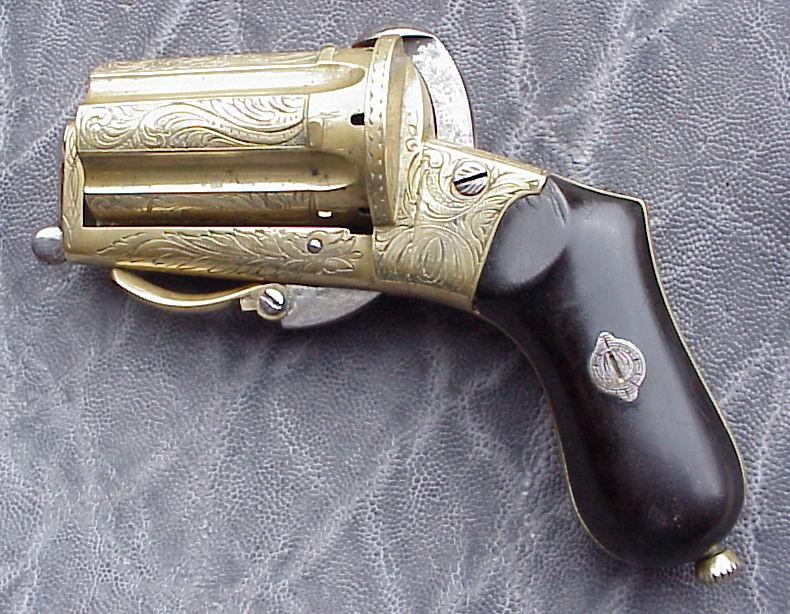 Deprez
Pepper box with gilded nails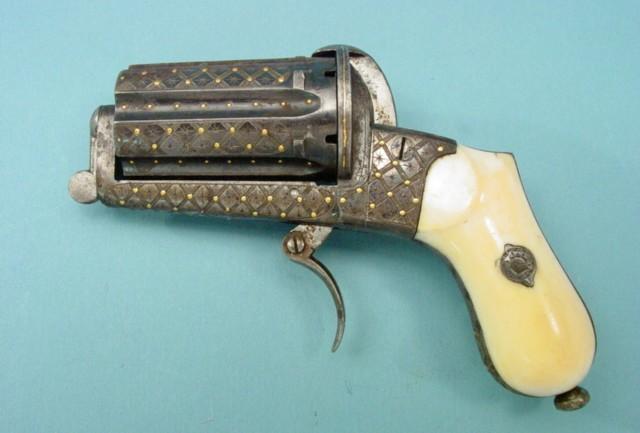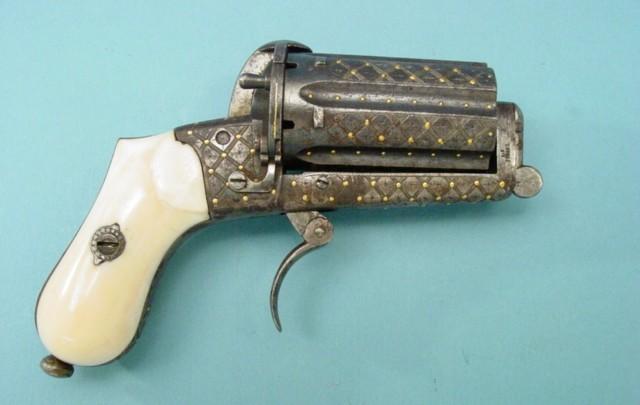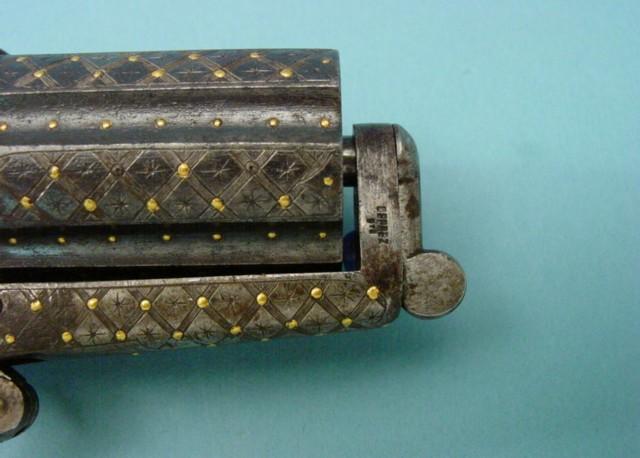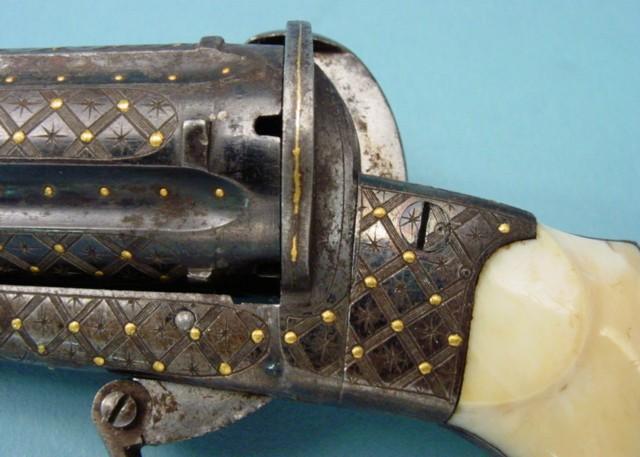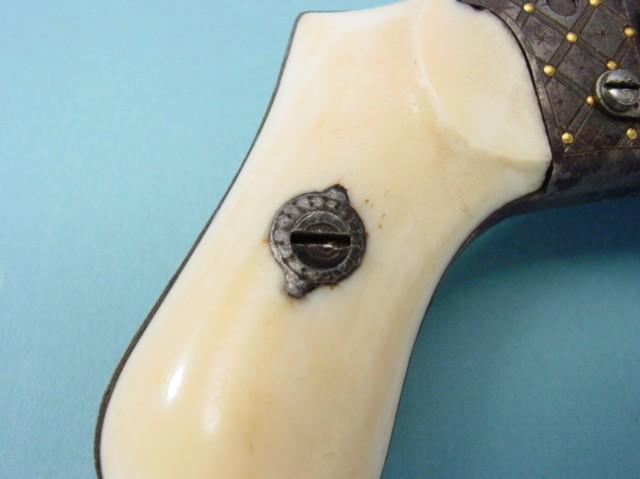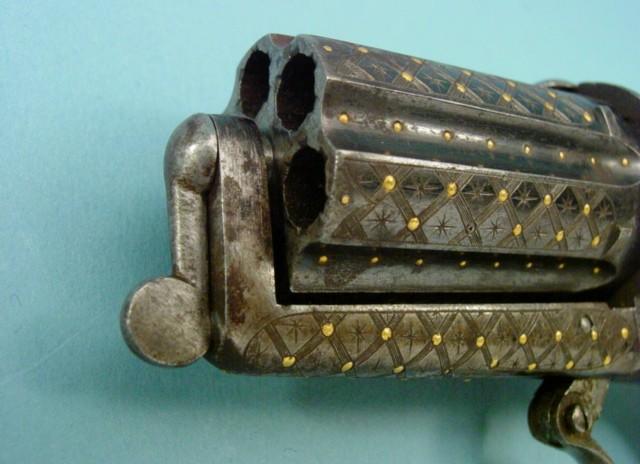 Deprez
Pepper box engraved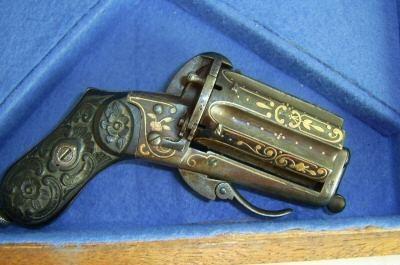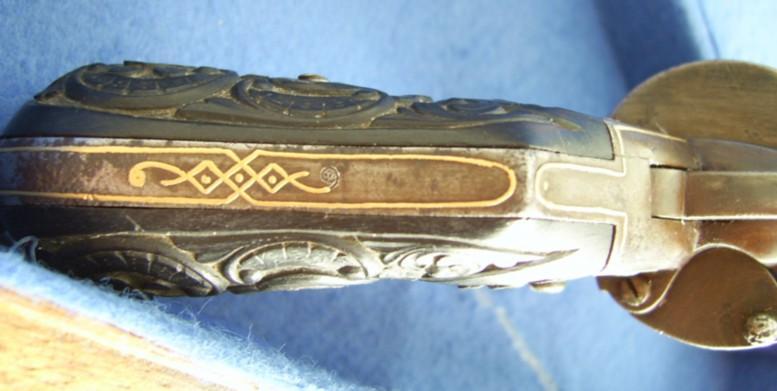 Deprez
Photographs friendly authorized by "Collectorsfirearms"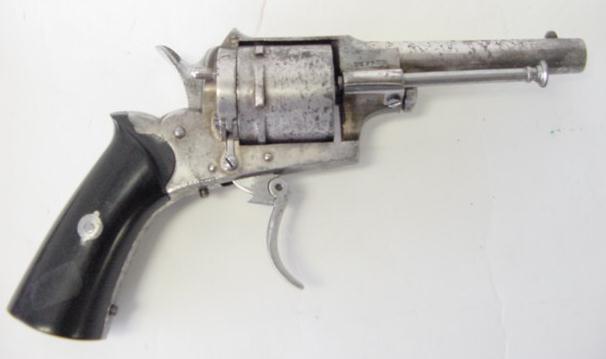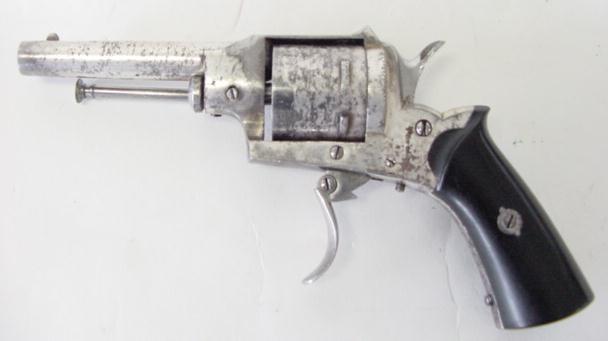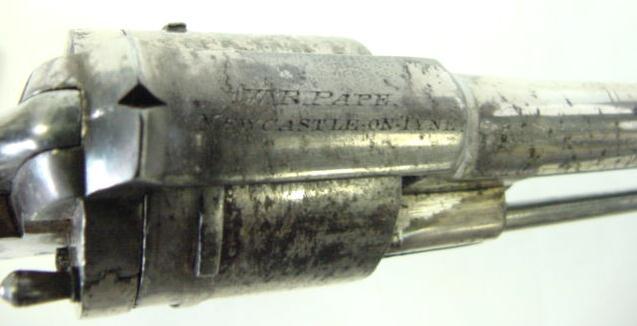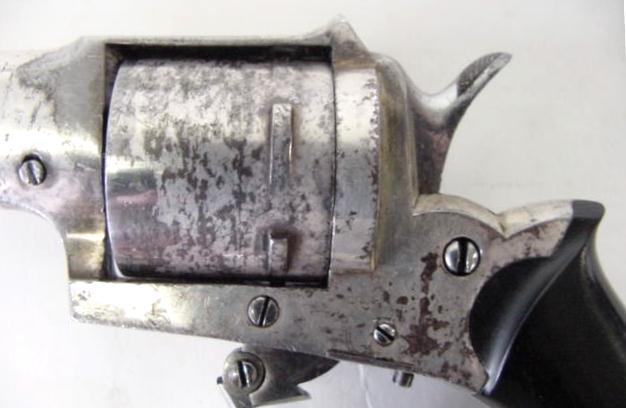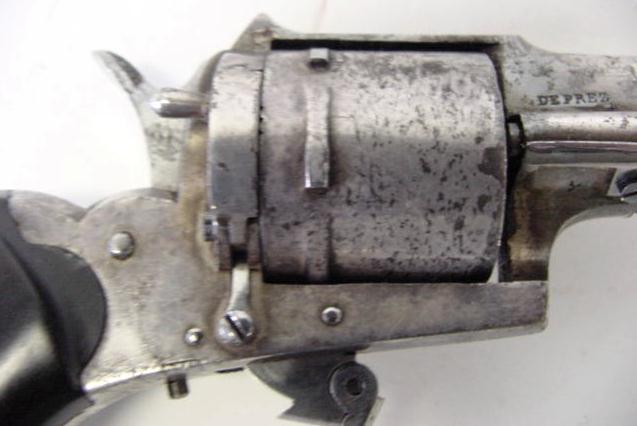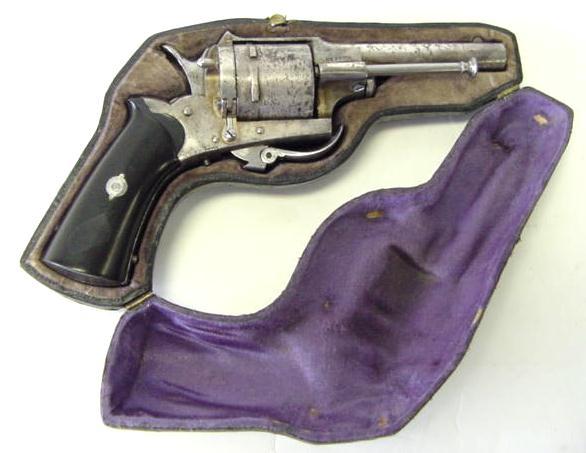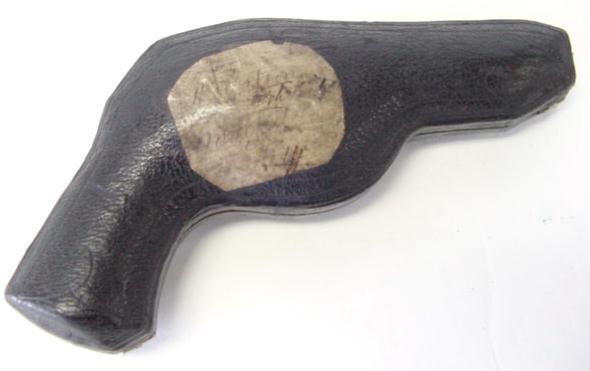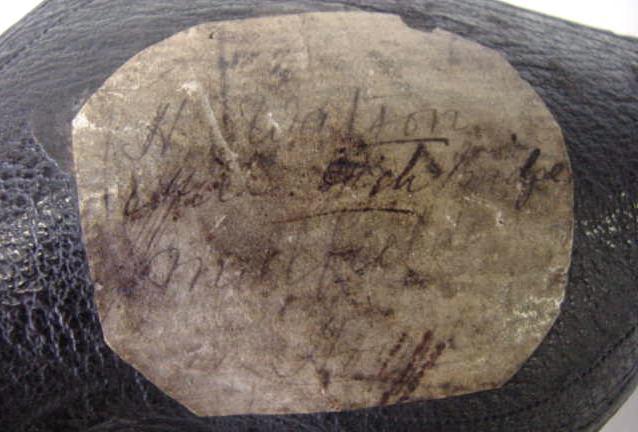 Deprez
The DEPREZ who been in the arms manufacturing trade, in the Liege area in the 19th century are numerous and to find the one we are concerned with is not easy task. I However I think I have been able to pin down the right one in the person of DEPREZ Jean Mathieu from Wandre (Liege area) who registered seven patents for a gun with a revolving cylinder from 1857 to 1867!
The cased gun shown here is a DEPREZ patented revolver, it is displayed in a precious wood box lined with green baize and with its accessories, a brass powder horn, a box for balls and a bullet mould.
This is a six shot percussion gun in 8 mm caliber.
The relationship with COLT is obvious. It is an open frame gun, but the method to attach the barrel to the frame is quite different, i.e. instead of a wedge key we notice a swivelling bolt actuated by a lever. It lies against the barrel where a small tenon with a spring engages the notch of the cam under the barrel and locks it.
The gun also has a classic loading lever and the lever to unlock the barrel is below.
The walnut grip is decorated with floral designs and ends by a smooth metal cap.
The gun is very well made and is very pleasant to handle. We must regret its open frame which progressively will acquire some play with use, as on the majority of the weapons of the time.
GG