Some of the most beautiful work of this craftsman, and many others, are in this book "Liège Gunmakers through their Work. 1800 - 1950".
For more detail see: LIEGE GUNMAKERS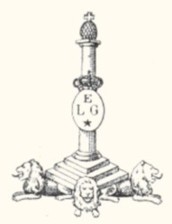 Detriche (ou Detrixhe)
I do not know anything of this DETRICHE arms manufacturer of Liège if I believe the peron of it. Beautiful pair of pistol flintlock style LOUIS XV barrel out of bronze and brass accessories!
But I have nothing on this manufacturer even not in the GAIER!!
GG
DETRICHE, do not know.
On the other hand I have three DETRIXHE in my data base, including two having deposited a patent in the years 1870-72.
Michel
There is a gunmaker in 14 Rue Francaise in Paris named Detrixe, spelling first became importent in the later part of 1800 and the Paris gunmakers often had workshops in the Liege region on account of the cheap labour (nice gun).
The name Gaier is mentioned, has he written a book on the arms fabricators in Liege or is it"4 centuries of Liege gun making" he means
Med venlig hilsen (Yours)
Peter Rasmussen Sparholt