Some of the most beautiful work of this craftsman, and many others, are in this book "Liège Gunmakers through their Work. 1800 - 1950".
For more detail see: LIEGE GUNMAKERS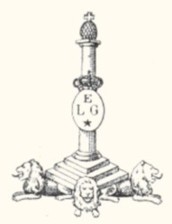 Dewalle frères
Shotgun to double barrel, with two superposed shots
This shotgun is equipped with two round barrels over all their length in damas "Turkish undermined with three steels" equipped each one with two chimneys located at approximately 10 centimeters one of the other.
Two locks are with percussion with plate carrying two complete mechanisms with single trigger and equipped with a special device which blocks the back hammers automatically as long as the shot before is not drawn.
One second pressure made leave the remaining load.
The plate and the hammers are decorated delicate engravings with floral.
The mounting of drowning is nicely guilloched in fish scales, the plate of layer and the trigger guard are black and the ebony maulstick.
Words "DEWALLE Frères" were damascened out of gold on the tape of assembly.
Design features
Length: 1283 mm
Length of the barrel: 866 mm
Gauge: 16
The manufacturer
We have unfortunately only very rare information on "DEWALLE Frères" in Liege, only which they were registered with the proof house of Liege of 1844 to 1862.
The museum of weapons of Liege preserves one of these exceptional weapons under the reference (MAL 5058-Ah 39).
GG
Photos Littlegun