Some of the most beautiful work of this craftsman, and many others, are in this book "Liège Gunmakers through their Work. 1800 - 1950".
For more detail see: LIEGE GUNMAKERS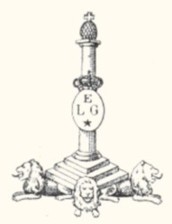 A. Dorval & Cie
Shotgun to small game.
The square locks are of type hammerless (hidden hammers) with key of opening "Top lever" and safety with slide of the Galand type.
The juxtaposed barrels (in table) are smooth and of gauge 16 (17,4 mm).
The stick is cut with English.
The weapon carries the lawful punches of the proofhouse of Liege, namely:
ELG on star in a crowned oval: final acceptance post 1893.
Peron: inspection post 1853.
V - T - Q - under star: countermarks of the controllers post 1877.
EL in cursive letters: provisional test post 1852.
16 C in a rhombus: gauge, of use of 1898 to 1924.
PV under a stylized lion: test with the powder without smoke, of use of 1898 to 1968.
Choke 16.2/17.0: chokes barrels: calibre in mm to 22 cm of the breech and the mouth. In use of 1910 to 1924.
D = 65 /18.7: length of the room in mm and diameter in mm after optional test with powders without smoke. In use of 1892 to 1924.
1KG314.8: weight of the barrel which can draw from the powders without smoke (smooth barrels). In use of 1892 to 1924.
Period of manufacture: Between 1910 and 1924.
Following markings are the fact of the manufacturer, that is to say:
A. DORVAL & Cie ARMES LIEGE: mark of factory of the company André DORVAL & Co street of the Brook, 67 in Liege. It was registered with the proofhouse of 1906 to 1920.
In 1910, the company deposits a Belgian patent for a new mechanism of ejection applicable to the shotguns system hammerless.
ACIER FIN (REFINED STEEL) in gilded incrustation: indicate the type of steel used.
EPREUVES PYROXYLEES (PYROXILINE TESTS) in gilded incrustation: indicate that the weapon has undergoes the tests with the powder without smoke (see above). It is only about one no obligatory advertising marking.
GG