Some of the most beautiful work of this craftsman, and many others, are in this book "Liège Gunmakers through their Work. 1800 - 1950".
For more detail see: LIEGE GUNMAKERS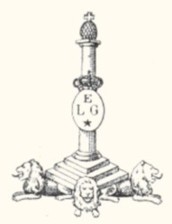 DUMOULIN Frères
It is about a collapsible rifle, often called of "poacher" because it was dissimulated easily in a coat. It is of type MARTINY but transformed into "collapsible", the MARTINY-HENRY of origin not being it.
We owe this transformation with the arms manufacturer of CHERATTE (Liege) DELHOUNE, Paul.
This one deposited of 1897 to 1900, three patents for a removal system to the hand of Martiny rifle and modifications made to the Martiny rifle.
The partially unobtrusive mark of Delhoune is reproduced on the box of breech of this weapon.
It is about a traditional Martiny system if it is not that the weapon was transformed into collapsible rifle.
(see illustration on appendix, page of catalogue LOVINFOSSE-HARDY where it is presented (N° 110) wrongly as a system LECLERCQ which is rather system "side lever» or key snake)
The stick out of wooden of drowning is worked with English and the forearm is squared.
The lever prolonging the trigger guard is an arming lever. (See mechanism of Martiny in appendix 2)
The weapon carries the punches of tests of Liège, namely:
Spangled ELG in a crowned oval: acceptance post 1893.
Peron: inspection post 1853
Coupled AF and spangled: countermark of the controller post 1877.
Manufacturer
The weapon carries the mark of manufacturer DF crossed of an arrow which is a trade mark the 12.08.1881 by DUMOULIN Frères, Boulevard de la Sauvenière, 89 in Liege.
It is a part that hardly meets in the catalogues of Liège of the time and it is moreover one interesting improvement of a Martiny system which had already known the Henry improvement and the Francotte improvement.
GG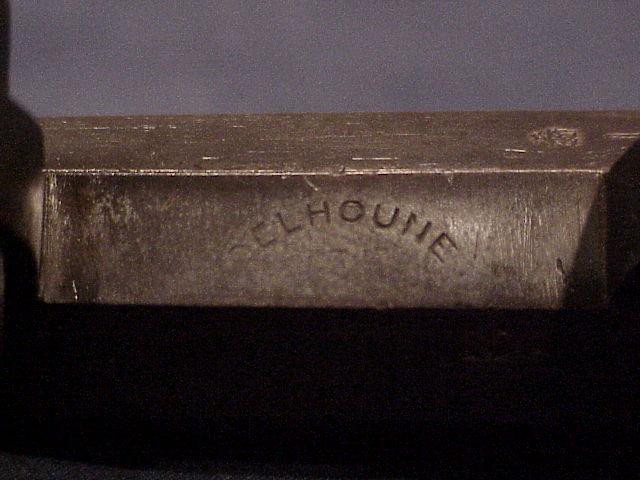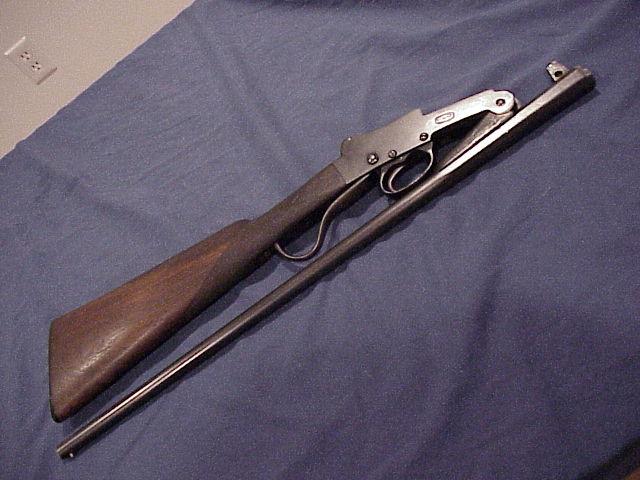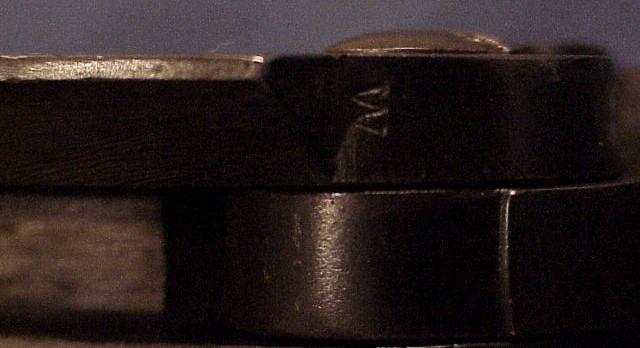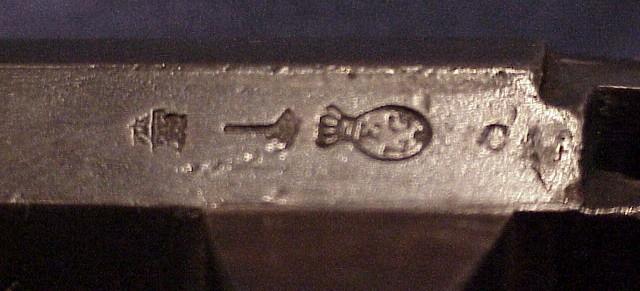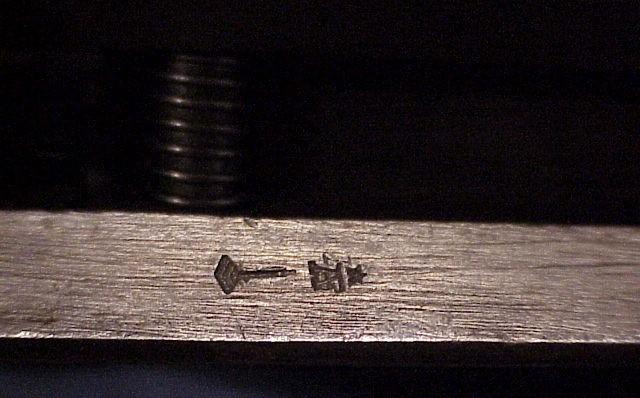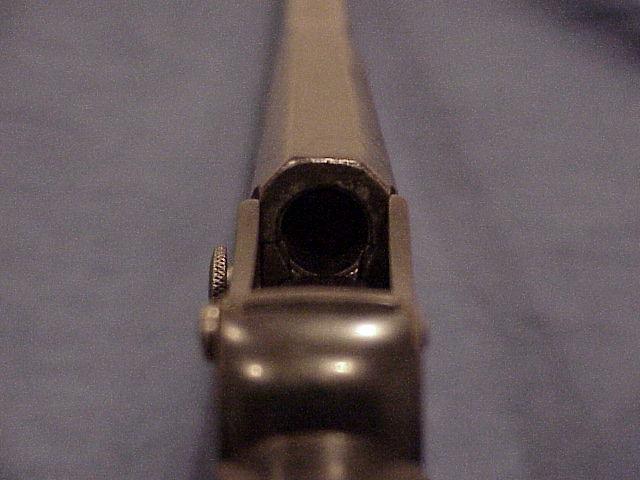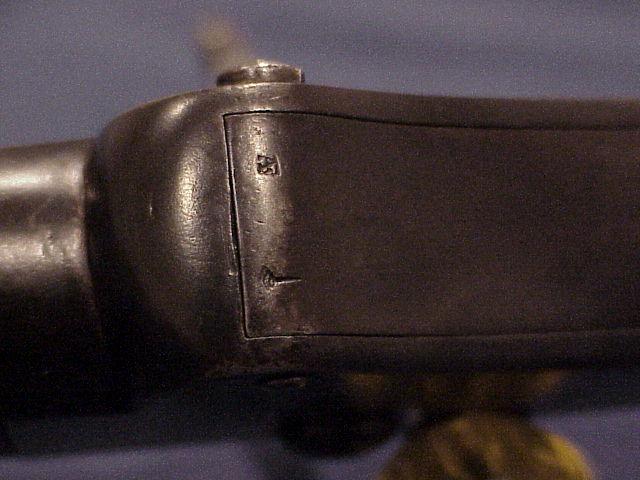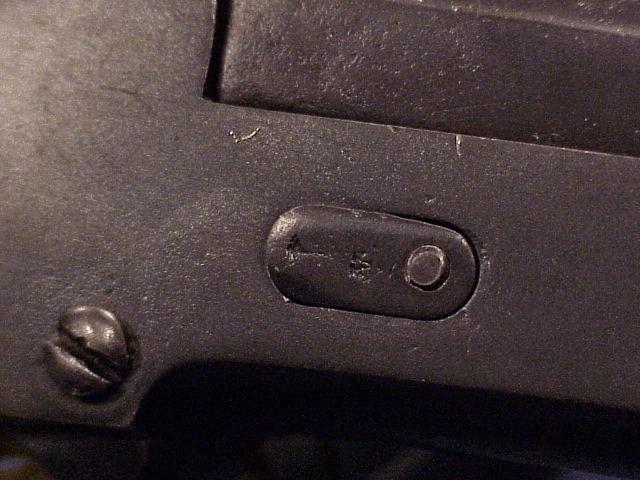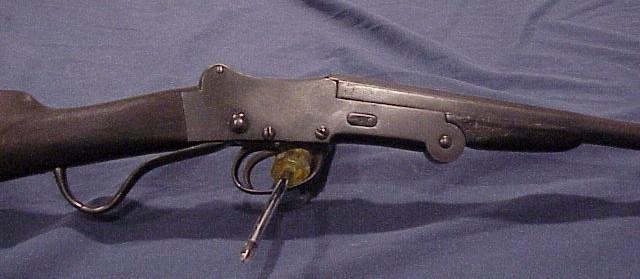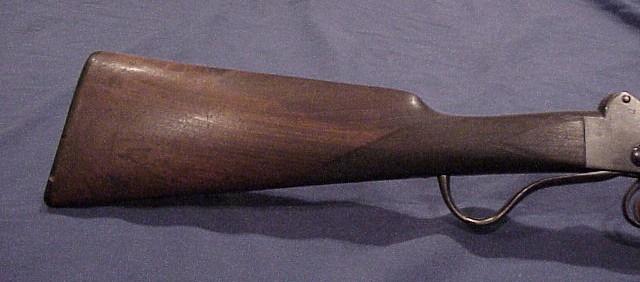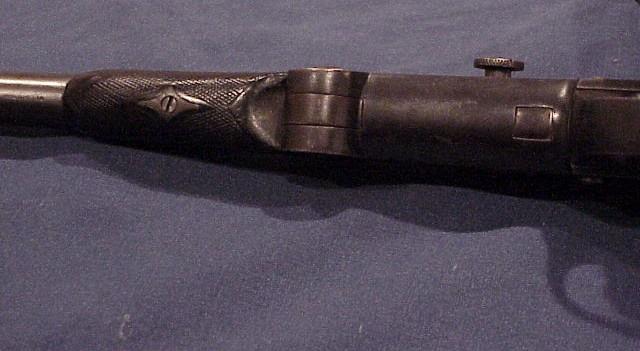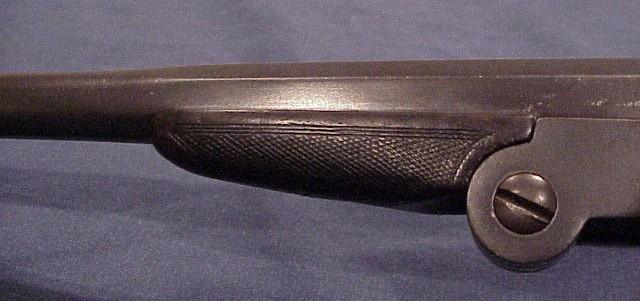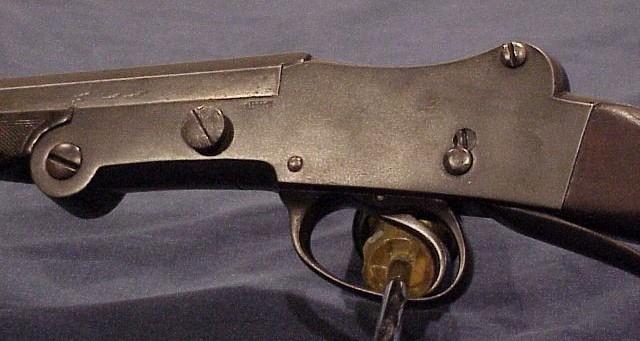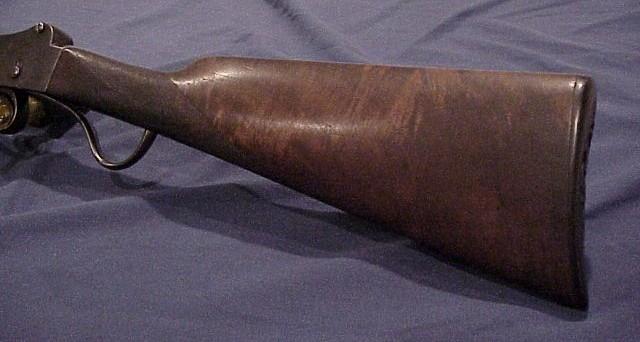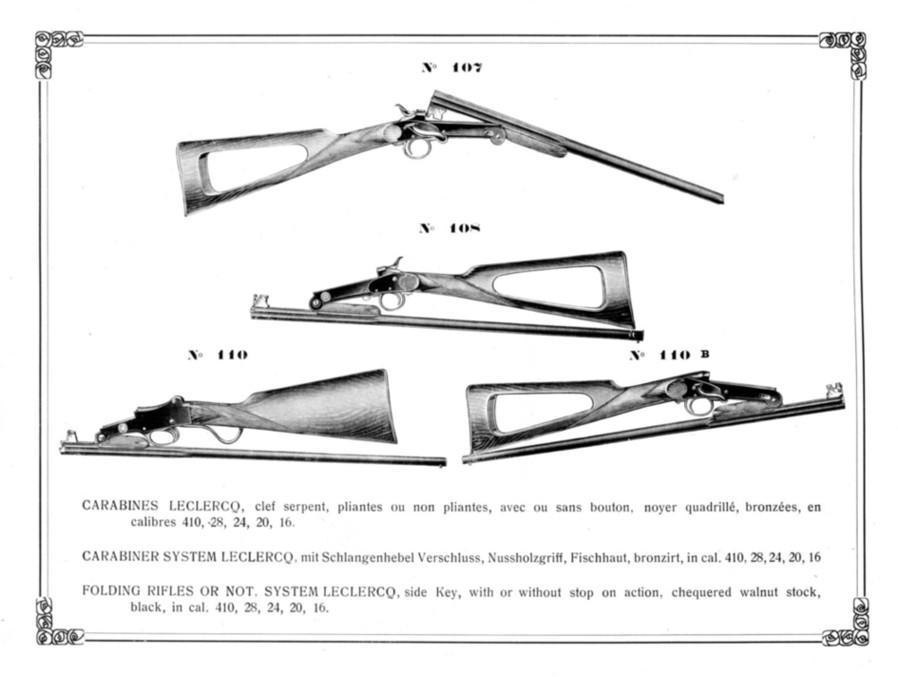 DUMOULIN Frères
Light hunting rifle in 9 mm Flobert, smooth bore.
This Rifle was manufactured in 1893 or 1894 by Dumoulin Frères in Liege (1877 to t 1894).
The pistol grip is carefully carved and represents a hunter.
The rolling block by an under lever, or the way of fastening the barrel, is patented by Decortis in Liege.
I believe that the system was manufactured by Dumoulin Fr. and the barrel by Decortis or Decortis son (1877 to 1884).
G. Decortis was a manufacturer in Liege in 1877 and afterwards.
Desguez, no10 Boulevard Magenta, was the retail dealer in Paris.
Stamps:
ELG in a crowned oval: acceptance (11.07.1893 to 26.02.1968)
Perron: inspection (post 16.06.1853)
STAR/A : counter mark of the controller (27.01.1877 to 26.02.1968)
On the barrel is the exact gauge (8,6) and # 95 (year 1895?)
Bert
Very good analysis for his weapon, perfect in regard to the stamps of the Liege Proof House.
The stamp DF Crossed by an arrow registered on 12.08.1881, belongs to DUMOULIN Frères 89 ,Boulevard de la Sauvenière, in Liege, registered with the Liège Proof House from 1877 to 1894.
They registered 6 Belgian patents from1879 to 1890.
I would add my contribution by specifying that it is DECORTIS-FRAIKIN Gustave gun manufacturer in CHERATTE (province of Liege) who registered 6 patents from 1881 to 1891 including one concerning a system of rifle with a breech-hammer .
Since I have not been able to examine the patent, I cannot confirm that it is this weapon.
GG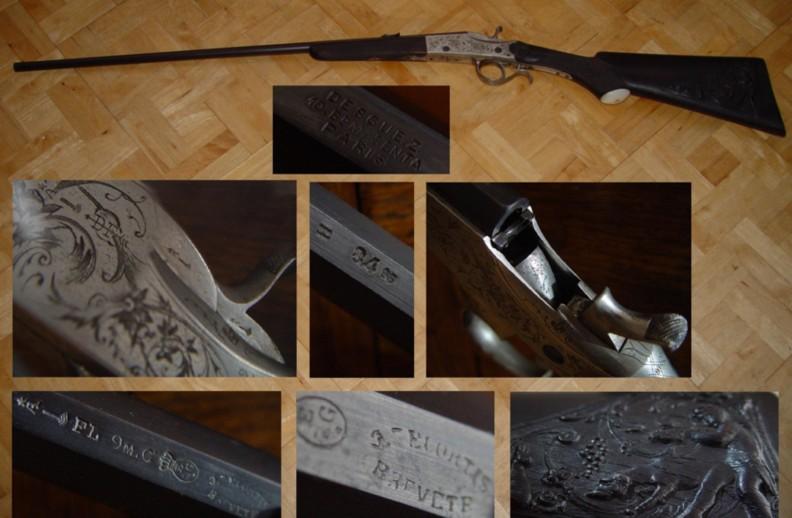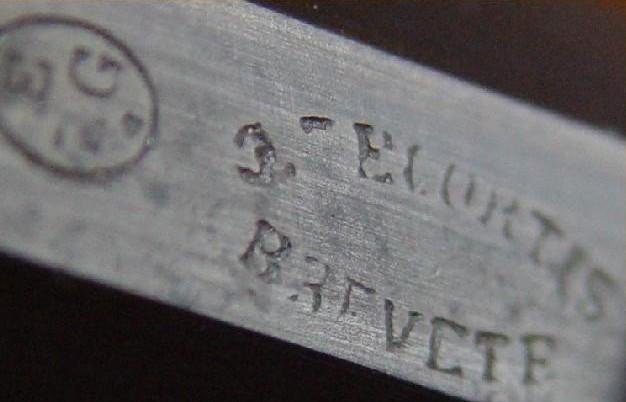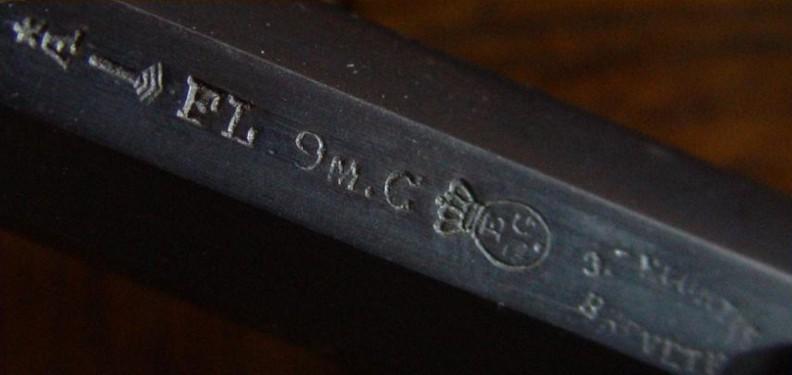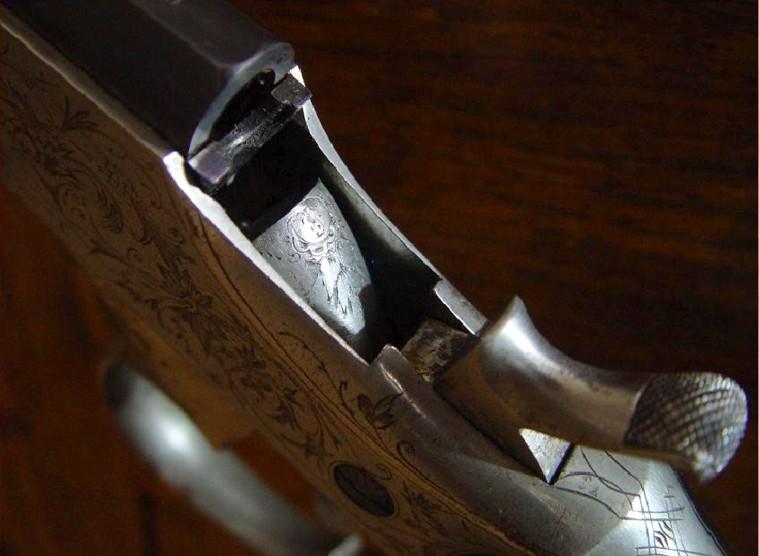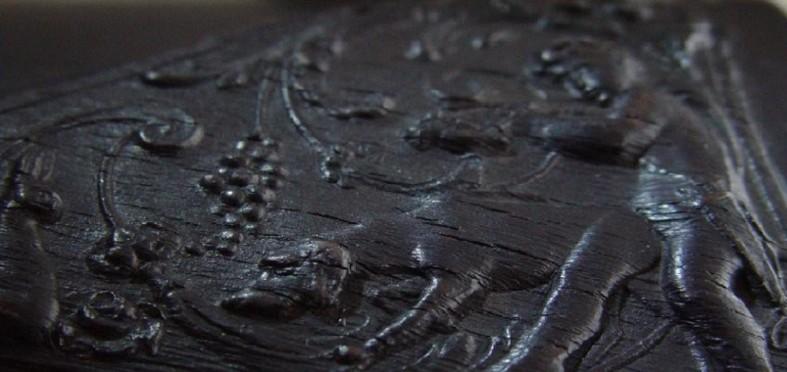 Dumoulin Frères
This is a rifle invented by Julien WARNANT of HOIGNEE-CHERATTE near Liege and patented in 1885 (patents n° 68.280 and 69430)
This rifle was made in several calibers, 6 - 7 - 8 and 9 mm. This one in caliber .22 jibes to 6mm. Its age can be more or less determined by the Liege Proof House acceptance stamp: ELG in a crowned oval which was used from July 11, 1893.
The Perron (Little tower) is the inspection stamp used after June 16, 1853.
The Crown/R represents the test for rifled bores stamp used from 30.01.1894 to 26.02.1968.
In spite of a flash stroke on the photograph, I think I can recognize the mark DF with an arrow across which a trade mark 12.08.1881 registered by DEMOULIN Frères 89 Boulevard de la Sauvenière,in Liege.
I have no idea of the meaning of stamps 5,2 - 84 ;probably barrels makers' or workshops marks .
From what what I see on photographs, I have a feeling that the gun has been re-browned.
Below you will find a page of a 1931 DUMOULIN Frères catalogue mentioning these guns sometimes called FLOBERT or MARIETTE.
GG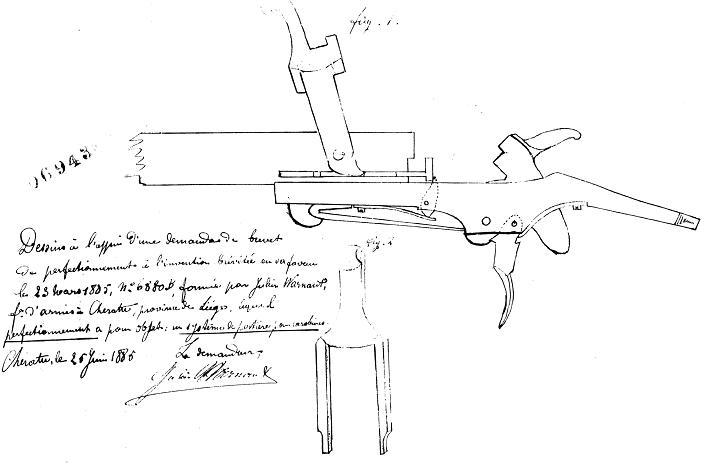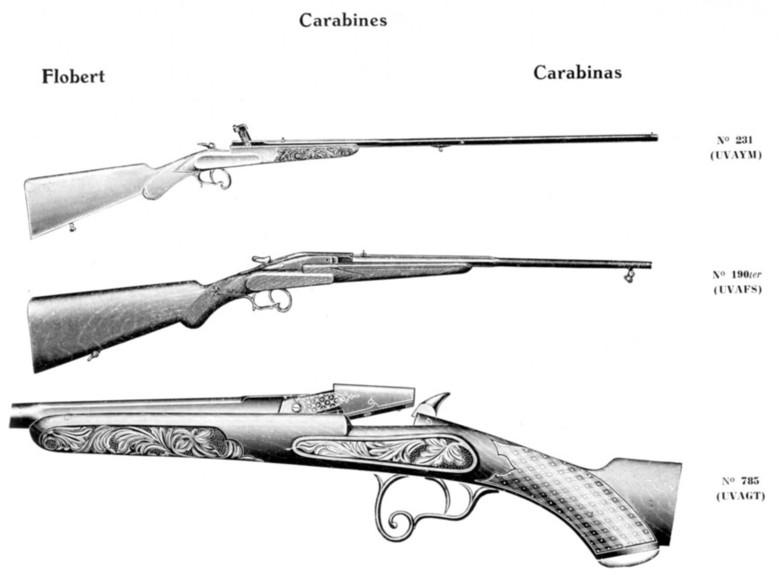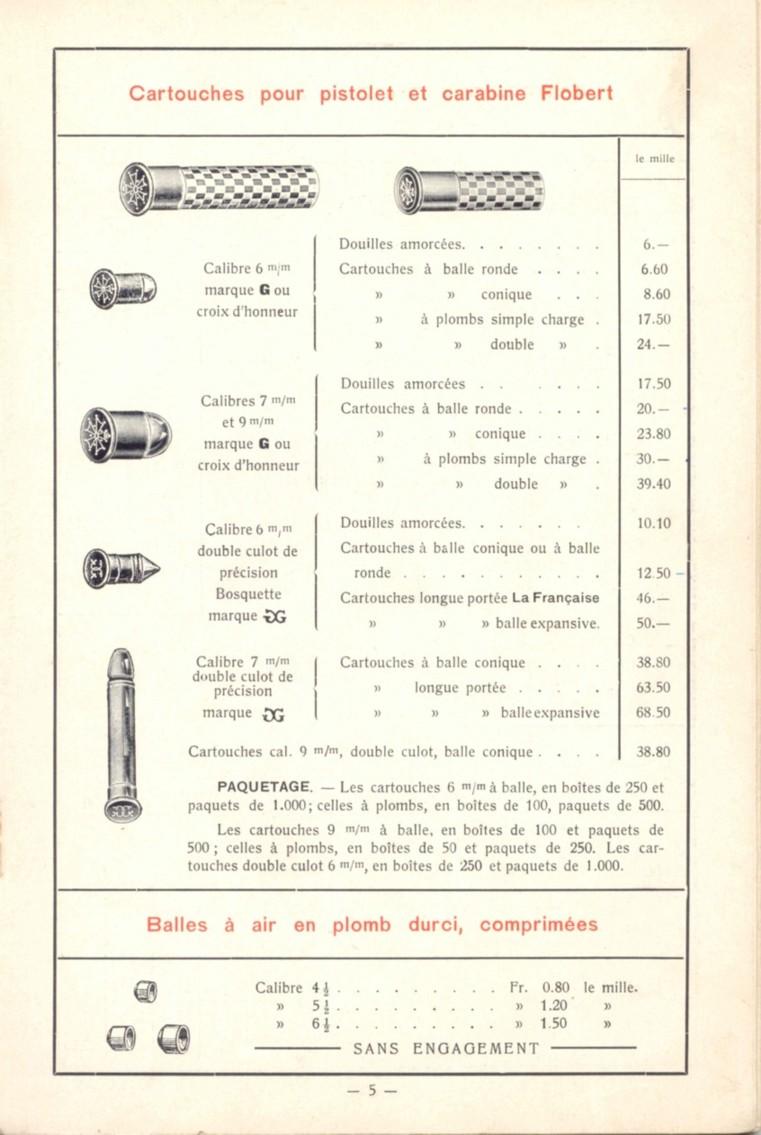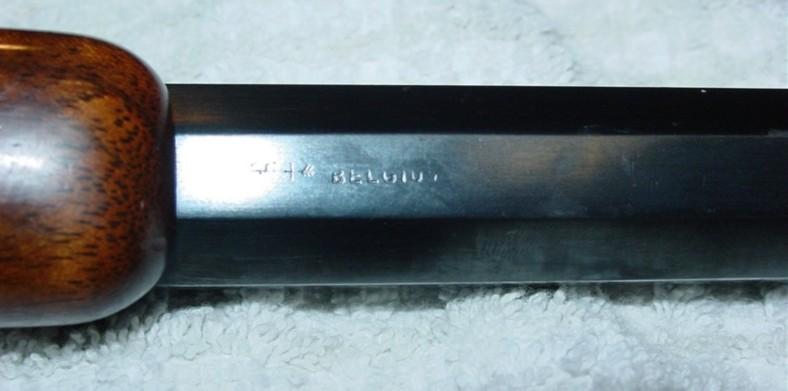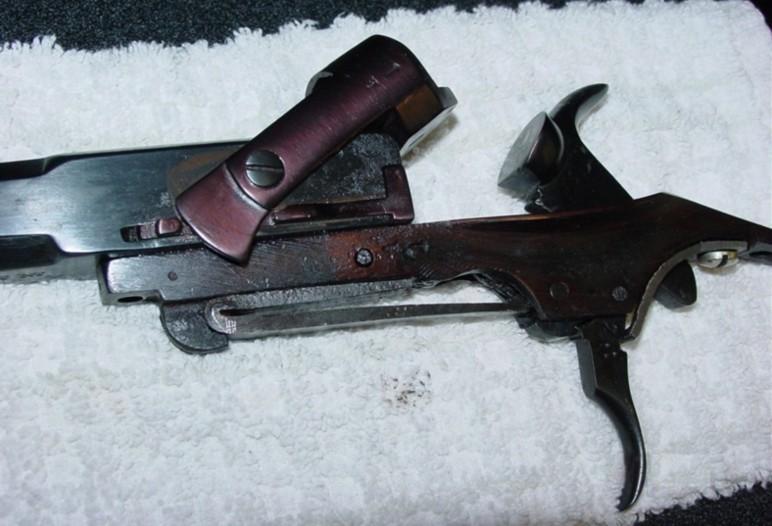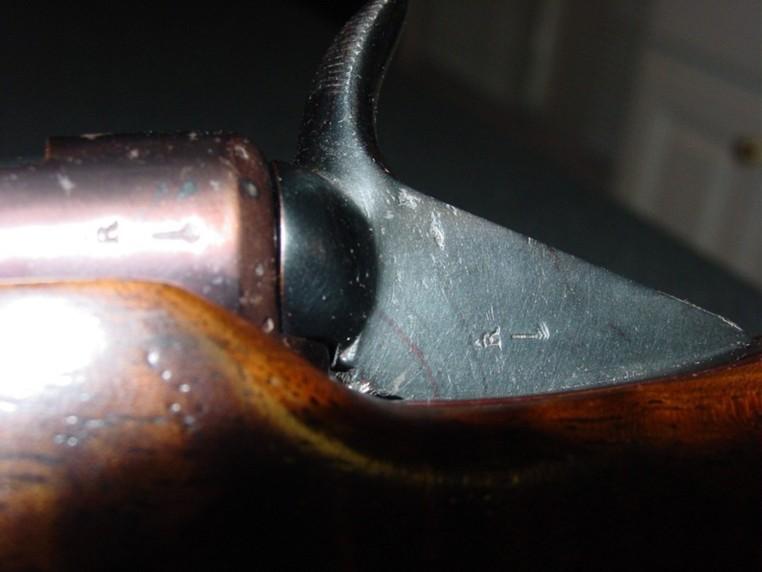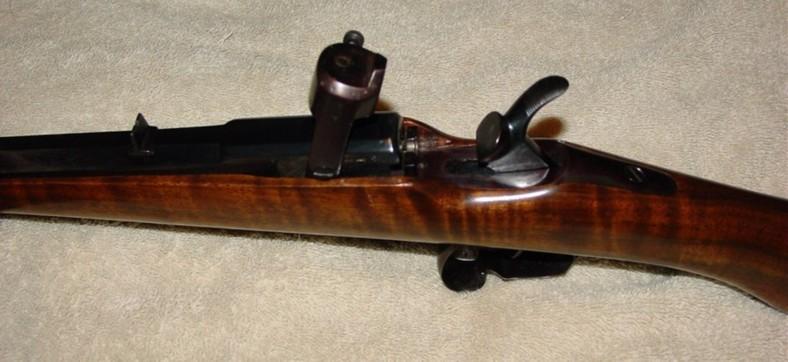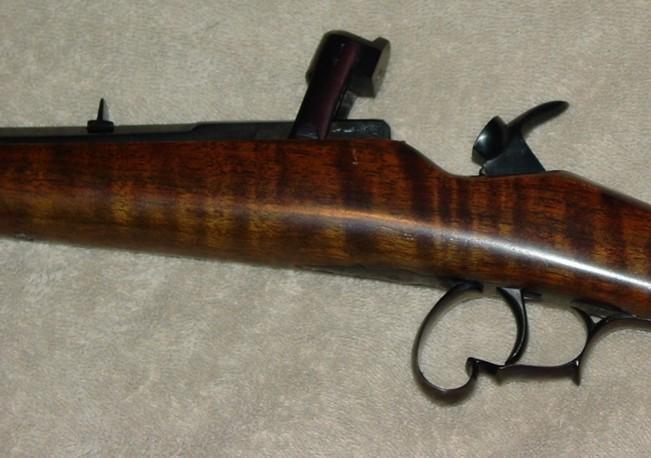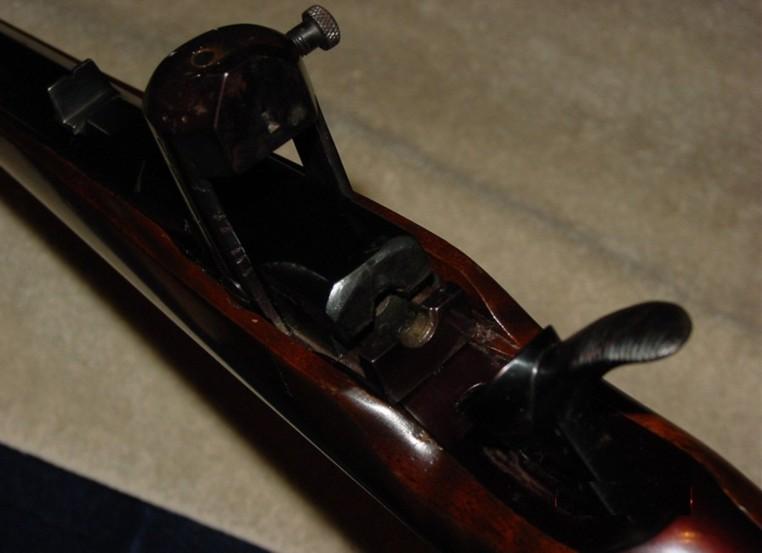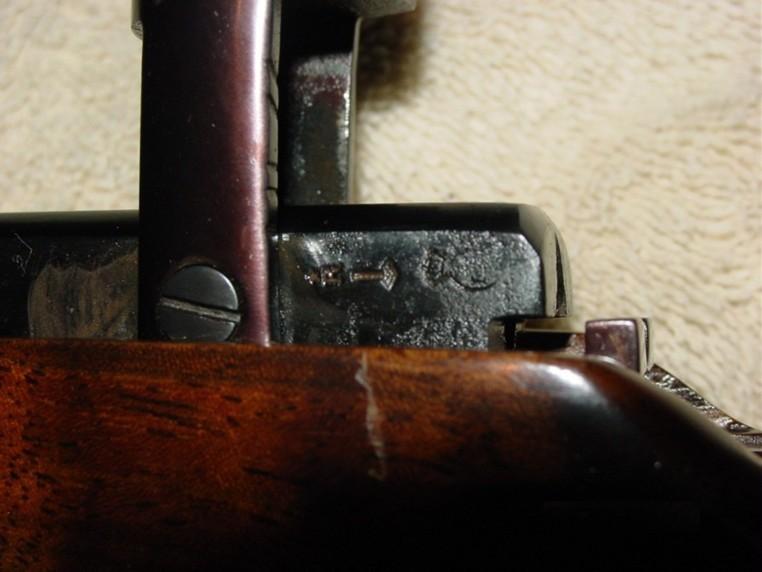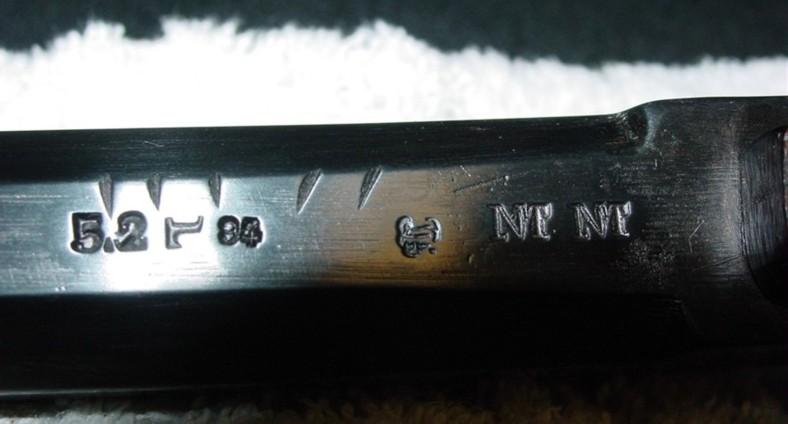 Dumoulin Frères
The weapon
It acts of a gun of shooting to one shot of calibre 6 mm.
The gun is striped and with eight sides, the trigger guard is with volutes.
The squared stick finely ends in a metal cap with baluster.
The manufacturer
Crossed mark DF of an arrow was deposited the 12.08.1881 by DUMOULIN BROTHERS boulevard of Sauvenière, 89 in LIEGE (BE 1877/1894) See site.
The punches
The punches of the bench of tests of Liege (BE) raised on the weapon, can be interpreted as follows:
ELG in a crowned oval: acceptance - (11.07.1893 to the 26.02.1968)
R crowned: rifled bore - (30.01.94 to the 26.02.1968)
Perron (little tower): inspection (16.06.1853 until today)
L spangled: countermark of the controller (27.01.1877 to the 26.02.1968)
Mark FL 22 means that it acts of a gauge 22 FLOBERT.
GG
Many thanks to Rusty Fout for the photos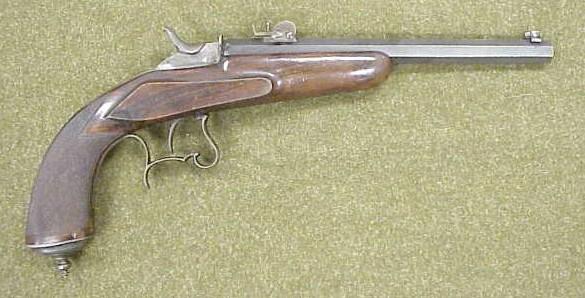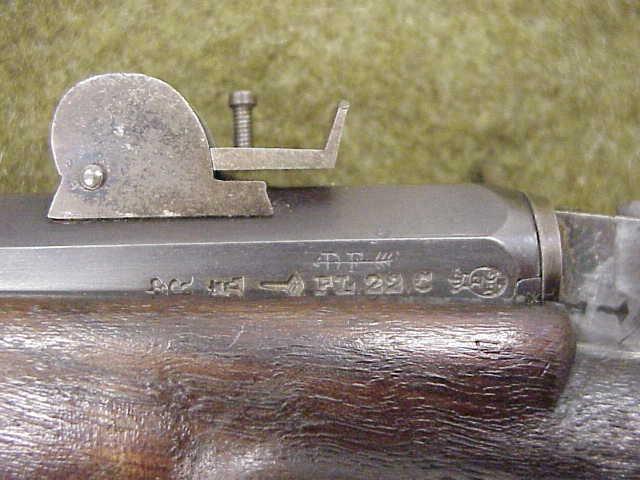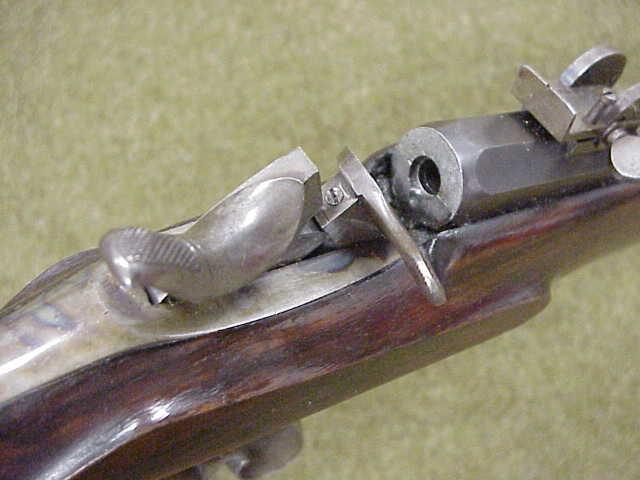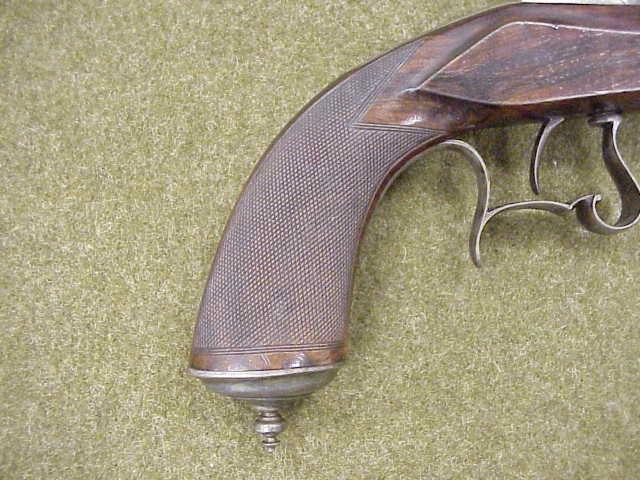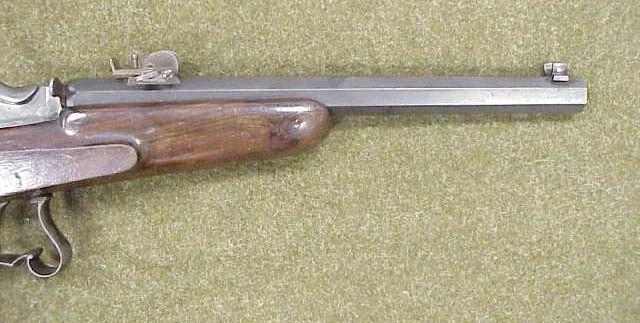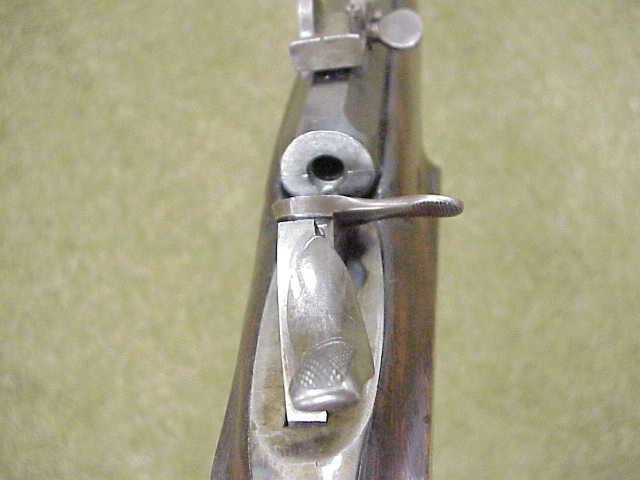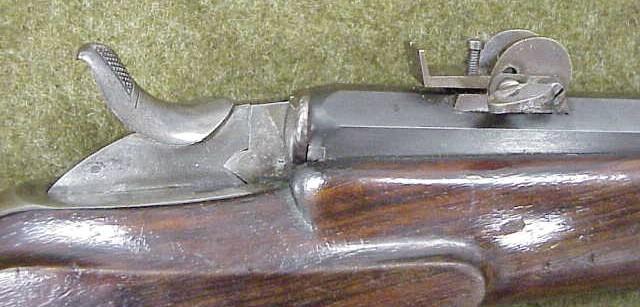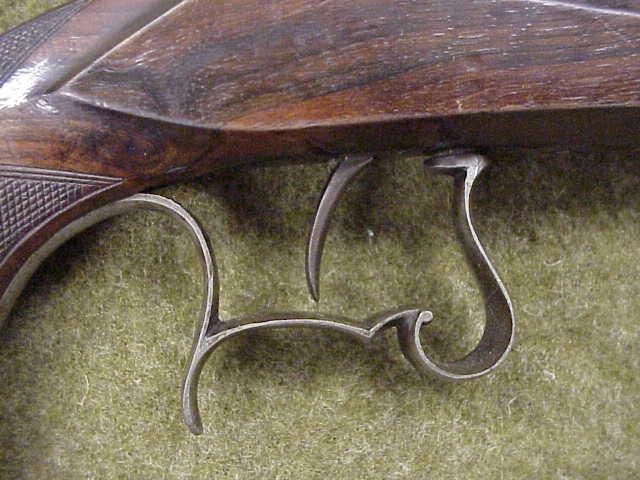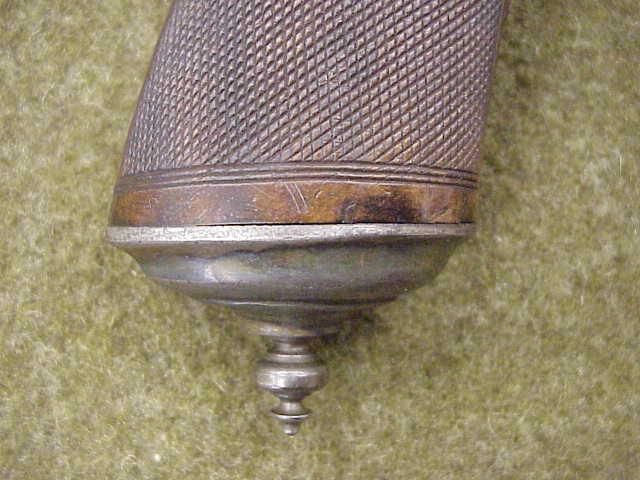 Dumoulin Frères
Dumoulin Freres for J.W. Rosier Melbourne Damascus Barrels marked Eugene Bernhard.
Many thanks to "COLLECTORSFIREARMS" for the photos.