Some of the most beautiful work of this craftsman, and many others, are in this book "Liège Gunmakers through their Work. 1800 - 1950".
For more detail see: LIEGE GUNMAKERS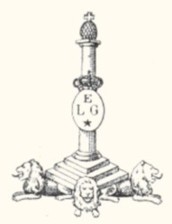 Dumoulin-Paques
This weapon is a double rifle of hunting, with unrifled bores, without extractor seems to me it, external hammers, retrograde lock with central percussion and opening by double key of the Lefaucheux type.
I don't know this type of hammers and without handling, I am badly explained it why and it how of their so special form.
The barrels of gauge 17,8 mm are in Damas ribbon with top sight brass in barley grain!
The stick out of wooden of drowning, without buttplate, is with English to cheek.
The trigger guard is with volutes.
It carries the lawful punches of the proofhouse of Liege, namely:
Spangled ELG in an oval: acceptance, of use of 1846 to 1893.
Peron: inspection post 1853.
H crowned (read so well?) countermark of the controller, with of use of 1853 with 1877. The weapon was thus manufactured in this fork of date!
EL in cursive letters: provisional test, of use of 1852 to our days.
17,8: gauge, of use of 1889 to our days.
The manufacturer, according to mark DUMOULIN PATENTS 143 left on the rocker could be, in any assumption DUMOULIN-PÂQUES registered with the proofhouse of 1853 to 1860.
It is the n° of series struck the tape between the barrels (Dumoulin-Pâques - DP12451) which made me think but it there is perhaps a coincidence?
Take care, there existed several craftsmen of the same name at the time and in the absence of first name in the mark, I issue some reserves! Not having this patent, it is not possible for me to be more categorical.
GG