Some of the most beautiful work of this craftsman, and many others, are in this book "Liθge Gunmakers through their Work. 1800 - 1950".
For more detail see: LIEGE GUNMAKERS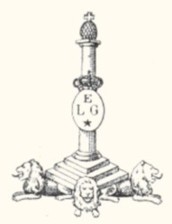 Falisse Louis
Very pretty box of two pistols of pockets with percussion of the type "blow of fist".
Their system is with trunk with the central hammer.
The barrels can unscrew it using the square end of the ball mould, end which is introduced into the 4 stripes with the mouth of the barrels.
The triggers are retractable in the trunk.
The grips of drowning are of form "drips of water" with to the end a reserve with starters whose lid carries a grotesque mask.
The sides of the trunks are engraved.
The box out of invaluable wooden is covered with brown fabric clearly and the top is well marked by the weapons what indicates that it is about fabric of origin.
It contains a powder horn out of turned wooden, a ball mould, one limps with starters out of wooden (of ebony?) and a housing for the round balls.
The weapons carry the mark crowned LF - 107G which is certainly the mark of the manufacturer who is unknown for us.
In any assumption, it could perhaps be a question of FALISSE Louis mechanic in Liege and author of three patents of 1840 to 1843, which was in activity during the approximate period of manufacture of these two weapons (about 1850).
They also have the punch of final acceptance (spangled ELG in an oval) used of 1846 to 1893.
GG