Some of the most beautiful work of this craftsman, and many others, are in this book "Liège Gunmakers through their Work. 1800 - 1950".
For more detail see: LIEGE GUNMAKERS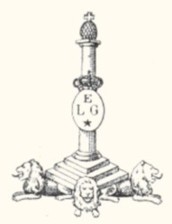 Frederix A. (Maybe)
This weapon is a revolver of the type "German bulldog" the barrel is hemmed with the mouth and a standard safety "Reich revolver" is placed on the frame on the left-hand side.
It corresponds well to the revolver in illustration and drawn from a catalog MASEREEL of Liege (1914).
It carries the lawful punches of the bench of tests of Liege is:
- Spangled ELG in an oval which is the punch of final acceptance of use of 1846 to 1893.
- Y crowned: it is about the countermark of the controller of use of 1853 to 1877.
Mark AF could possibly correspond to several manufacturers of this time such as for example:
- FAGNUS Alexandre street of Célestines, 9 in Liege (BE 1861/68)
- FORET A (1878)
- FORGERON Alphonse (BE 1880/1932) street A.Borgnet, 5 in Liege.
- FRANCOTTE Auguste Mont St Martin, 61 in Liege (is a mark AF without crown in cursive letters announced in 1880?)
- FREDERIX A. of Liege (1867)
In the absence of certainty, we will thus remain about it with the assumptions.
GG
The assumption that it is about Francotte is thus very improbable since the dates (1853-1877) of countermark of controller do not correspond with the date of the mark in question (1880)!
Alain