Some of the most beautiful work of this craftsman, and many others, are in this book "Liège Gunmakers through their Work. 1800 - 1950".
For more detail see: LIEGE GUNMAKERS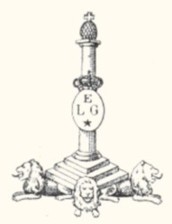 Frère J.L.
It is about a pistol pinfire with two barrels in table.
Key of opening of the type Lefaucheux, trigger guard with puts back finger.
Curious system of aiming very close to the hammers and not of handlebar at the end of the barrels?
The rather worn stock was to be rather pretty in a new state of share its sculptures, its part of inch in silver probably and its tail of engraved breech of floral reasons.
The barrels carry on the jointed tape the mention BITON et CLERC en MONTEVIDEO which are unknown arms manufacture of Liège. They are with my direction of tradesmen (emigrated) selling as much others the weapons of Liège. I hardly have documentation on the arms manufacturers of South America; it is however not faulted of having sought!
The weapon carries the punches of the house of tests of Liege, that is to say:
Spangled ELG in an oval: acceptance (of 1846 to 1893)
15, 2: gauge in mm of use of 1889 to our days.
Peron: inspection post 1853.
EL in cursive letters: provisional test post 1852.
These various punches give us an approximate fork of the time of manufacture is 1889 with 1893. Many weapons pinfire of draft and even in percussion were still manufactured in Liege at that time late!
Remain the letters JLF which are not known as a mark in documentation.
By could stepping, perhaps you one designate FRERES J.L of Herstal which deposits in 1863 a patent for a system of closing of Lefaucheux rifle?
M.O is probably the mark of a subcontractor.
GG