Some of the most beautiful work of this craftsman, and many others, are in this book "Liège Gunmakers through their Work. 1800 - 1950".
For more detail see: LIEGE GUNMAKERS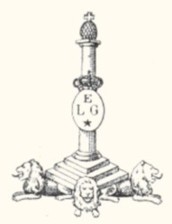 Léon GATHOYE
Double shotgun of hammerless type.
The barrels are juxtaposed and of gauge 12. Locks are of types "ahead" with key of opening on the top.
Engravings are of type "bouquets" and "sheets of oak".
The stick not photographed perhaps only "with English" or "pistol"!
Punches
The weapon carries the lawful punches of the proofhouse of Liege, namely:
ELG on star in a crowned oval: final acceptance post 1893.
Peron: inspection post 1853.
EL in cursive letters: provisional test post 1852.
J spangled: countermark of the controller post 1877.
12 C in a vertical rhombus: gauge, of use of 1898 to 1924.
Choke: illegible mentions on the photographs!!!
The manufacturer:
Leon GATHOYE, street Lulay, 20 in LIEGE was registered with the registers of the proofhouse of 1887 to 1909. In 1885 and 1889, it deposits two patents for a double closing with two bolts for rifle and an improvement brought to the extractor of the shotgun automatic system GREMEIRE.
LEON GATHOYE FOURNISSEUR DE S.A.R. Mgr le Prince Albert de Belgique
LEON GATHOYE SUPPLIER OF Its Royal Highness Monseigneur Prince Albert of Belgium, it acts here of the future Albert 1st of Belgium!!
The part of inch is engraved of a blazon which I can't identify it because I'm not an expert into heraldic.
1456: serial number.
GG