Some of the most beautiful work of this craftsman, and many others, are in this book "Liège Gunmakers through their Work. 1800 - 1950".
For more detail see: LIEGE GUNMAKERS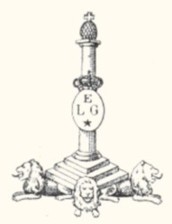 Ghaye Lambert
Lever of trigger guard and sliding barrel
Rifle with barrel and breech sliding
Ghaye Lambert
GHAYE, Lambert is not registered (to my knowledge) with the Bench of test of LIEGE! He is however the inventor of a slide gun rifle towards 1865.
In 1888, a model with metal cartridge left, this weapon had a trigger guard lever kind of Winchester which made slide the gun on its table and started the movement of the extractor. Lambert GHAYE applied its system to almost all the range of the portable weapons of the time.
A gun-revolver GHAYE was thus manufactured between 1865-1870. This weapon was always with capsules, method of a little obsolete ignition at the time. The weapon did not comprise a rod and its shooting was not made that into simple action. The barrel was with six cells. This weapon of a great complexity, a lack of safety and a high price did not have hoped success. It thus acts of a very required weapon in collection. Present description is not referred to the gun presented in photographs and did not find any specimen in my documentation of it. It acts nevertheless of a single stroke gun, with stick Renaissance style in drowning and metal cap the weapon is with crack and the gun rocks by actuating the small visible lever in front of the pontet. It probably acts of a weapon former to the gun-revolver as mentioned below.
GG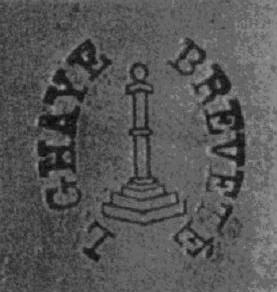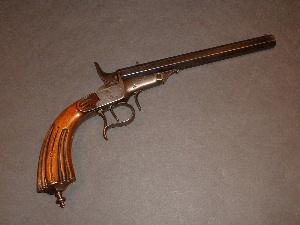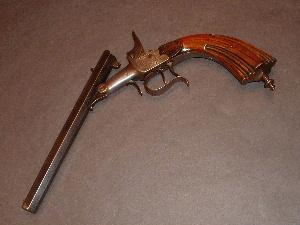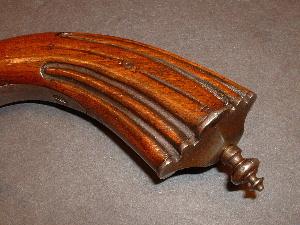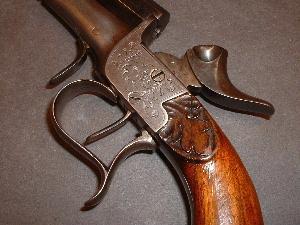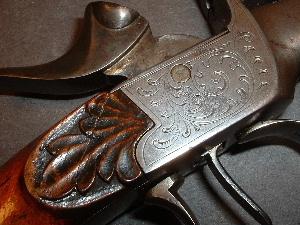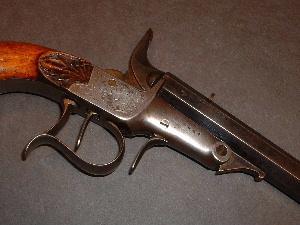 Tool Lambert Ghaye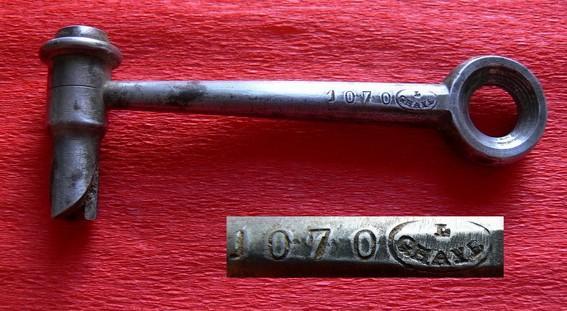 I bought by chance this tool signed L GHAYE (the name appeared after cleaning) and I would ask you to identify it to me (name and function). On the top there is a square. Bottom resembles a strawberry and the whole is cast solid.
Well cordially and thank you for your work.
Christian P.
Good question but I then to answer only one half.
Indeed, I am unaware of the utility of this part.
It carries the mark of Lambert GHAYE, arms manufacturer-mechanic, Faubourg St Léonard in Liege.
From 1855 to 1872, the interested party deposited 13 patents in Belgium for various inventions and improvements on the weapons with fire and bayonets
GHAYE was also a mechanic, perhaps acts he of a coin of machine of its vintage, intended for the manufacture of coins of weapons (turn, shaper, etc…)
I request the enlightened opinion of the team to identify this part.
Thank you in advance.
GG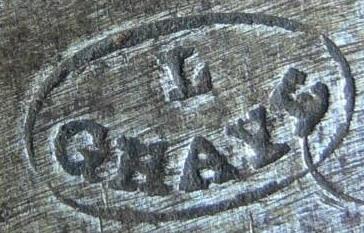 Hello with all,
Never considering that. Perhaps does one dismount chimney + a cleaner of clogged room?
Christian
Good evening,
After have much reflected, I think simply that it could be used to force the projectile in the direction of the stripes, and consequently occasion while coming against the thrust from the tool, to gauge with precision the volume of the chamber of the gun.
As for the number, I think, it has nothing to do with an unspecified weapon, but well with a card of manufacture, method which is always of topicality nowadays
Max.
Après research there is a box with the same tool !!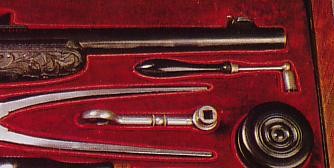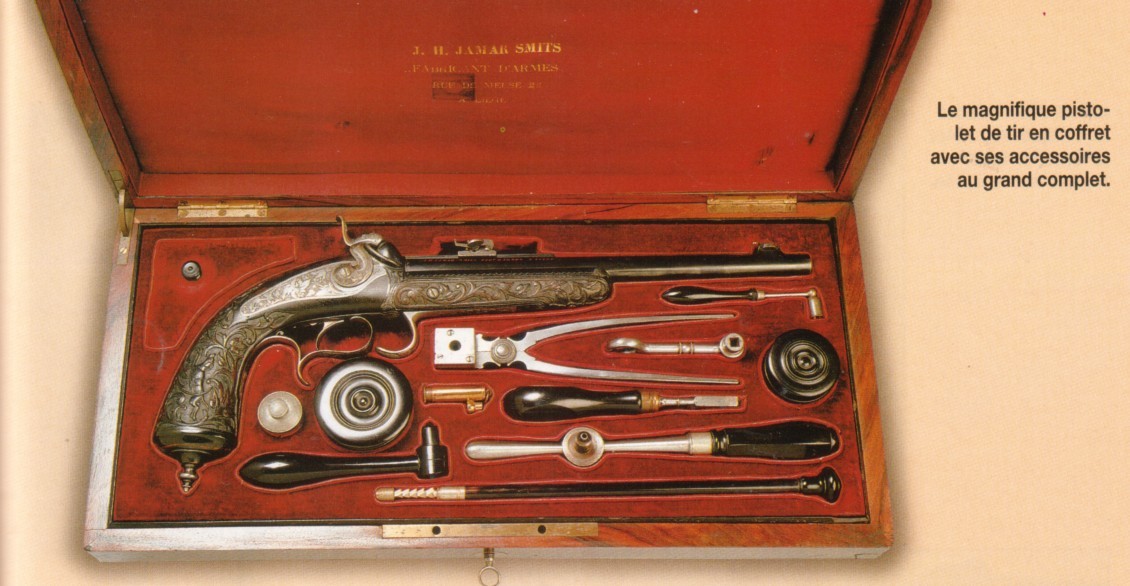 Knife Lambert Ghaye
Hello and congratulations for your site and evil that you are given to protect and propagate your knowledge of arms manufacture of Liège!
Enough oddly, it is by a friend of the French forum forgefr.com, of which I am member, that I knew your address!
I am explained:
I am the secretary - founder of "The Belgian Knife' S Society "ASBL, "BKS "which was constituted 10 years ago already, to gather, protect and diffuse the knowledge of the beautiful craft industry of the cutlery!
We organize also Days BKS of the Cutlery in Gembloux, these November 11 & 12 next!
In addition, I am a cutler hobbyist and collector of bayonets!
A friend, member of the BKS, had shown me last year curious "a bowie "carrying markings, as well on the pommel as the blade and the guard!
With knowknowing:
The perron of Liège
The number 1872
The initial capital letters L & G
The knife has an overall length of 345 mm, for a blade of 223 mm length and 42 mm broad with the ricasso!
The blade is equipped with against - edge with form "scimitar".
The guard seems to be out of bronze just as the flat pommel
The handle is made pieces of leather and still carries marks of manufacture and use.
This information had led us to "Ghaye Lambert", by analogy approximate of markings (many!)
I join to you photographs of this part in excellent state, having been used and still sharp!
I became, since today, the happy owner of this beautiful old knife!
I know that you are centred on the beautiful firearms produced in Liege and who interest us prodigiously, because many barrels and locks were produced in Damas which we use often too!
I would be very happy if you could help me to identify this part!
Jacques D.
It is extremely probable that your knife is the work of Lambert, Jean, Joseph GHAYE which was an arms manufacturer mechanic, Holy Faubourg Léonard in Liege. From 1855 to 1872, it deposited thirteen Belgian patents for in particular:
A system of gun with revolving room and mobile barrel being able to apply to any species of firearms.
A system of firearms taking care by the breech.
A system of casing applicable to the bayonets daggers or others
Several improvements and modifications for a system of firearms taking care by the breech.
Moreover, it used as marks the PERRON (Symbol of Liège) surrounded by (on the firearms) L.GHAYE on a side and PATENTS other.
It happened that certain collectors name it incorrectly Lieutenant GHAYE because he often struck the initial ones of his first name LT (of LAMBERT) and these two letters have is enough to make it go up in the military hierarchy whereas it was absolutely not the case.
All thus seems to correspond so that this paternity is established to 99%
While hoping to have answered your waiting, I address to you my wishes of good continuation in your collection.
G.G.