Some of the most beautiful work of this craftsman, and many others, are in this book "Liège Gunmakers through their Work. 1800 - 1950".
For more detail see: LIEGE GUNMAKERS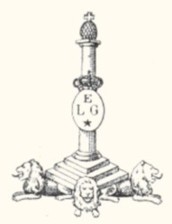 Revolvers COLT/GILON and DEAN-ADAMS/DANDOY.
Very beautiful whole of a revolver COLT NAVY 1851 and a revolver DEANE-ADAMS in the same box with the necessary complete of accessories for the shooting.
Together rather paradoxical also since these two weapons were two large competitors in the years 1850.
This COLT NAVY with simple action is one of the most famous models of the colonel made also in the United Kingdom and in Liege under license in particular by Nicolas, Joseph GILON of SAINT-REMY (province of Liège) He is especially announced himself to the posterity by depositing two patents into 1871/72 concerning improvements with the revolvers with cartridge extractors with central percussion.
The weapon is marked COLT PATENTS what shows the license and N.GILON clearly the manufacturer.
The same applies to revolver DEANE ADAMS 1851 manufactured under license by DANDOY, Charles (brief biography, see the site). This weapon with double trigger with cylinder equipped with five rooms was with box frame contrary to the COLT, which gave him a higher rigidity.
It was one of the first European responses to the hegemony of Samuel COLT. It did not have however the success which there would have deserved but remains a fundamental stage in the development of this type of weapons.
GG
P.S.: I think that this association (quite involuntary) does not exist that in the present cassette!
I add that DANDOY made some patents with RENNOTTE Dieudonné!
On the GILON engraving hunting and even bucolic does not resemble engravings of COLT and is even rather paradoxical since it is not a question of a weapon intended for hunting!!
Sold by "Hallantique"
Photos Littlegun