Some of the most beautiful work of this craftsman, and many others, are in this book "Liège Gunmakers through their Work. 1800 - 1950".
For more detail see: LIEGE GUNMAKERS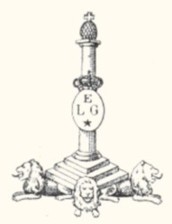 Gilon François (maybe)
The weapon
Pistol with central percussion said "Scottish".
The system is with crack and standard key Lefaucheux under the barrels.
The extraction is manual thanks to a small pedal.
The barrels are juxtaposed and striped.
A standard brass front sight "barley grain" is aimed between those.
The calibre is 11 mm or 450.
The trigger guard is with rest-finger.
The stick of the banana type is fixed by two transverse screws with brass rivet washers.
Punches
The weapon is struck punches of the proofhouse of Liege, namely:
ELG on star in a crowned oval: final acceptance post 1893.
Peron: inspection post 1853.
F and P reversed, spangled: countermarks of the controller's post 1877.
R crowned: rifled bore, of use of 1894 to 1968.
EL in English letters: provisional test, of use of 1852 to our days.
Markings
TF in a rectangle: mark of factory from THEATE BROTHERS street Trappé, 5 in Liege. Registered voters with the proofhouse of 1907 to 1950.
On the amount of stick GILON (unobtrusive first name). It is probably about a subcontractor. Several arms manufacturers GILON existed and it is quite difficult to make the sorting without having the first name!
It could be a question of GILON François de Sarolay-Argenteau (close to Liege) or perhaps of GILON Nicolas Joseph de Saint Remy?
CAL 450: calibre weapon.
GG