Some of the most beautiful work of this craftsman, and many others, are in this book "Liège Gunmakers through their Work. 1800 - 1950".
For more detail see: LIEGE GUNMAKERS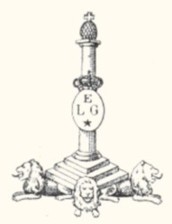 M. Gilnay
It is about a splendid weapon manufactured on the principle of our drillings modern.
The weapon is with two superimposed rotating tubes, the lower barrel is horizontal oval tromblon with smooth heart while the higher barrel of a calibre much smaller is striped.
The lock is marked M. GILNAY à LIEGE.
The single hammer is of swan neck type.
The two barrels are equipped each one with a battery which it is necessary to manually present in front of the hammer before the shooting.
The single trigger is right and protected by a long brass trigger guard.
Mounting is of French type about 1780. It goes to the mouth.
Floral engraving is typically of Liège.
She probably dates from the end of the XVIIIe century, probably 1780/1790.
Marking
Single marking M.GILNAY à LIEGE in English letters is engraved on the lock.
The manufacturer
Mr. GILNAY seems manufacturer of weapons in Liege was towards 1780/1790, it is not known in our documentation. Any information on this subject would be welcome.
GG