Some of the most beautiful work of this craftsman, and many others, are in this book "Liège Gunmakers through their Work. 1800 - 1950".
For more detail see: LIEGE GUNMAKERS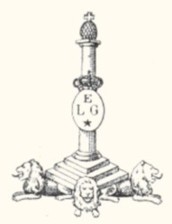 Gilon A.
It is about a current revolver of the type CONSTABLE to box frame and central percussion.
Impossible on photographs to determine of it the gauge which seems relatively important, perhaps 380?
The barrel is round and is equipped with a back sight in half-moon.
The cylinder is not alveolate and comprises six chambers.
The loading is practiced by a side door dropping using an internal spring.
The unloading of the casings is done using a metal rod swivelling on an axis.
The handle with metal amount ends in an oval cap.
The plates miss photographs but they were most probably joined together by a transverse screw and two rivet washers.
The weapon carries the two lawful punches of the bench of tests of Liege, namely:
ELG on star in an oval: final acceptance, of use of 1846 to 1893.
U crowned: countermark of the controller, of use of 1853 to 1877, which gives us one period of manufacture of the weapon.
Other markings are:
BRITISH CONSTABULARY: this mark is not included in the collection of the trade marks which starts only in 1879! This mark is thus former and should be in all logic allotted to A. GILON!
A.G.: on an amount of stick, A. GILON marks.
A. GILON: on another amount of stick, it is about the mark of the manufacturer who curiously does not appear in WHO'S WHO Arms manufacture of Liège. Other GILON appear in it like GILON Edmond - GILON François and GILON Nicolas which are probably contemporaries.
A current weapon of course but signed of the manufacturer what was not always the case at the time.
GG