Some of the most beautiful work of this craftsman, and many others, are in this book "Liège Gunmakers through their Work. 1800 - 1950".
For more detail see: LIEGE GUNMAKERS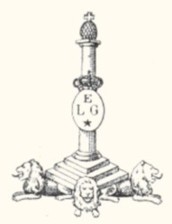 H. Giltay
This weapon is indeed a pretty shotgun to juxtaposed unrifled bores of gauge 12 pinfire.
It is about a system LEFAUCHEUX to double key of opening.
Locks are of retrograde type with external hammers. They carry pretty engravings huntings.
It carries the lawful punches of the bench of tests of Liege, namely:
The reading of the punches gives us one period of manufacture between 1877 and 1893.
The letter V crowned is well English origin and attests that your weapon travelled before landing on your premise.
The other marks are:
ARNOLD A LIEGE: I think of reading the first letter of a first name but I do not manage to identify it. There were several arms manufacturers of this name in Liege at the time which occupies us, that is to say:
ARNOLD Joseph, registered voter with the proof house of 1861 to 1862 and which is the author of a patent for a system of closing of rocker applicable to Lefaucheux rifles.
ARNOLD Mathias, street Cathedral 72, in Liege. He was registered with the proof house of 1869 to 1871 and is patentee three Belgian.
The weapon being posterior with the inscription of these craftsmen to the registers of manufacturers of the bench of tests, I think that it is rather about a retailer that of a manufacturer.
There is also:
ARNOLD L. manufacturer of weapons, street St Léonard, 75 in Liege in activity about 1889
Widowed ARNOLD-LAMAYE, street of the Cathedral, 66 in Liege, in activity about 1889.
GILTAY H could then be the manufacturer although it is not included in Who's Who arms manufacture of Liège. This work refers only to one GILTAY Joseph street of the Brook, 44 in Liege patentee 11 deposited of 1865 to 1888.
The last possibility would be that he is a manufacturer of barrels of rifles but I do not have anything to support my assumption.
GG