Some of the most beautiful work of this craftsman, and many others, are in this book "Liège Gunmakers through their Work. 1800 - 1950".
For more detail see: LIEGE GUNMAKERS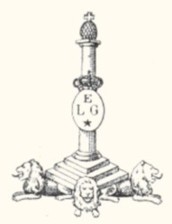 Goemans J.
This pair in a box was bought for 140 francs in Brussels, on December 9, 1847, from J. Goemans, arquebusier in Brussels.
The buyer jhr. mr. W.M.C. de Jonge van Ellemeet (1811-1888) was mayor of Oostkapelle and member of the Dutch Senate for the province of Zeeland.
The pistols are numbered 1 and 2 on the breech.
Caliber about 12,5 mm, length 44 cm, barrel 26 cm, weight 1010 gr.
No proof mark ELG. On the barrels only the number 11 and the letters FC interlaced, or perhaps JG (of J.Goemans??).
J. Goemans and his father distributed weapons and bullets to the revolutionaries, against the Dutch government in 1830.
Bert
It is indeed a very beautiful cassette lined with red velvet, the color of the duel, as the green was for the travel weapons.
These are percussion pistols of Renaissance style, the barrels with eight sides are made in a very nice damas. It's a pity that the inside of these barrels are rusty! They are fixed by keys or drawers and by a screw to the tail of breech. The trigger guard is with finger rest. The metal caps are with balusters.
The case contains all the material necessary for the loading and the cleaning essential after the shooting because the black powder was very corrosive.
We thus note the presence of a mallet, a powder flask, a screwdriver and a mould with balls.
The arms manufacturer J. Goemans of Brussels is presented as being the manufacturer of these weapons if we believe the markings around the hammers with percussion.
He was with his father the holder of a gun shop street of the Dominicans in Brussels. During the days of September it manufactured gracefully ammunition of war and distributed many weapons to the defenders of Brussels.
The absence of punches of tests astonishes me a little although the official punching of the proofhouse of Liège, started to be generalized only towards 1850 and still.
GG