Some of the most beautiful work of this craftsman, and many others, are in this book "Liège Gunmakers through their Work. 1800 - 1950".
For more detail see: LIEGE GUNMAKERS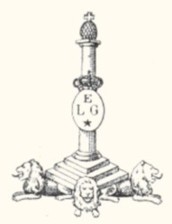 Goossens Henri & Fils
Here a sabre-revolver for cartridges with pin, of gauge not specified, marked HG and Son for Henry Goossens and Fils.
In fact, as it arises from the note published "in illo tempore", Henry Goossens represented Ambrogio Micheloni of Milan for the deposit of his patent 17084 in 1864. The following year, Henry Goossens deposited itself patent 18912 also referring to a sabre-revolver.
Markings
ELG on star in oval: acceptance between 1818 and 1893
H.G.et Patented Sons: Henry Goossens and Fils, street Trapped 3 in Liege, registered with the proofhouse of 1848 to 1885.
345: serial number?
V under crown (?): countermark of a controller from 1853 to 1877.
It will be noticed that the tail of trigger was modified compared to the weapon already presented before and compared to the patent.
GP with GG and MD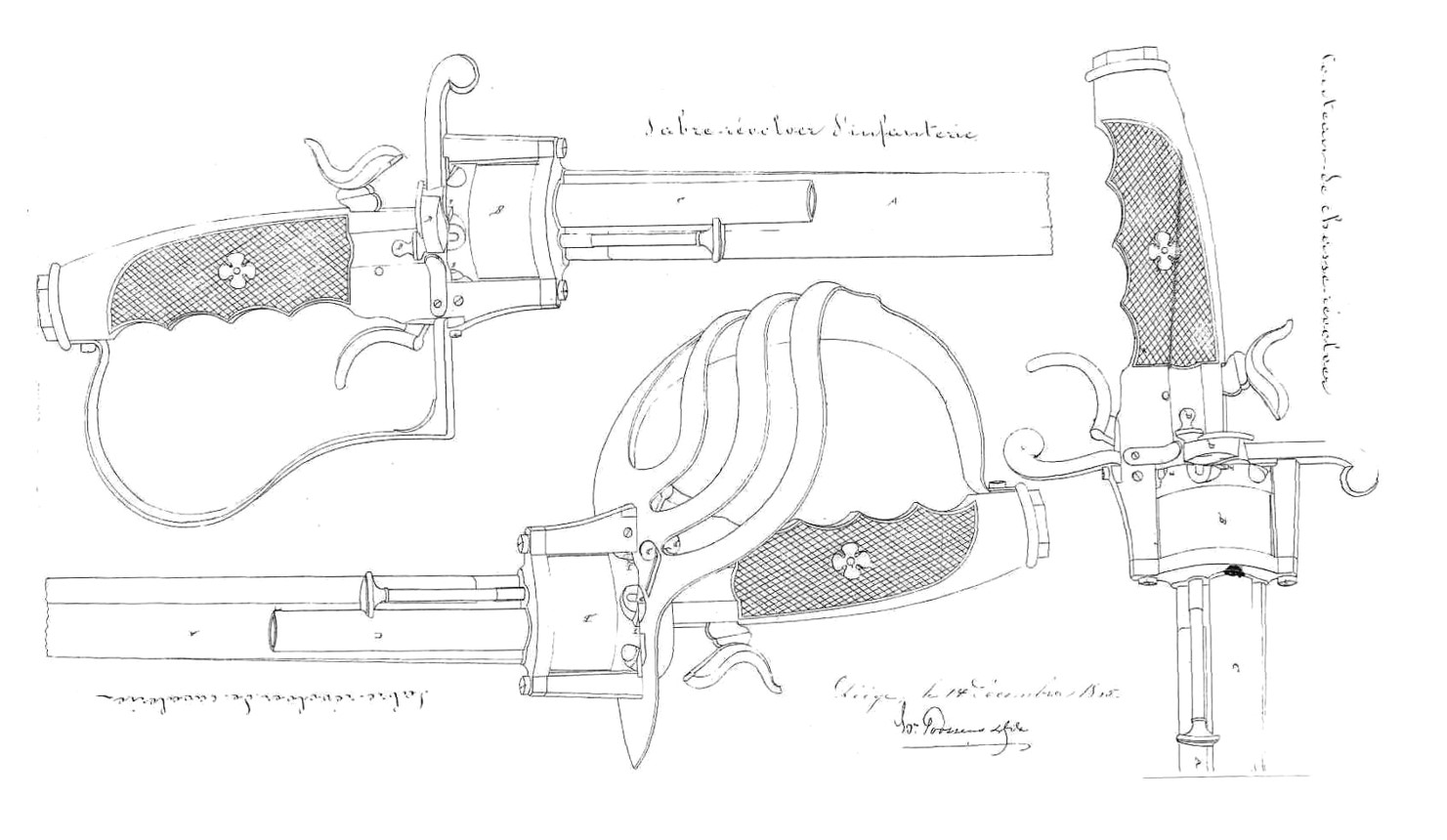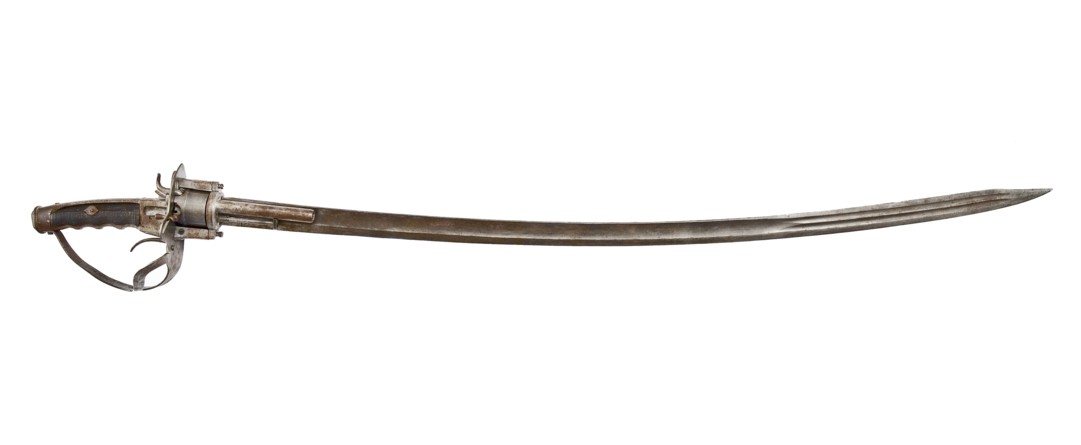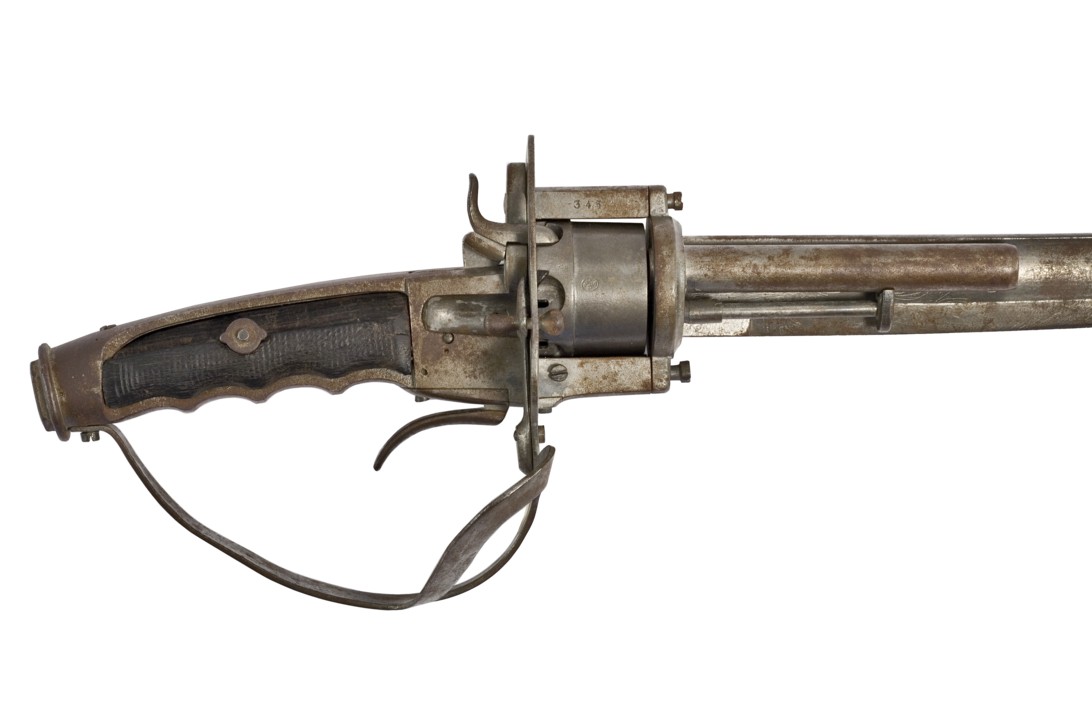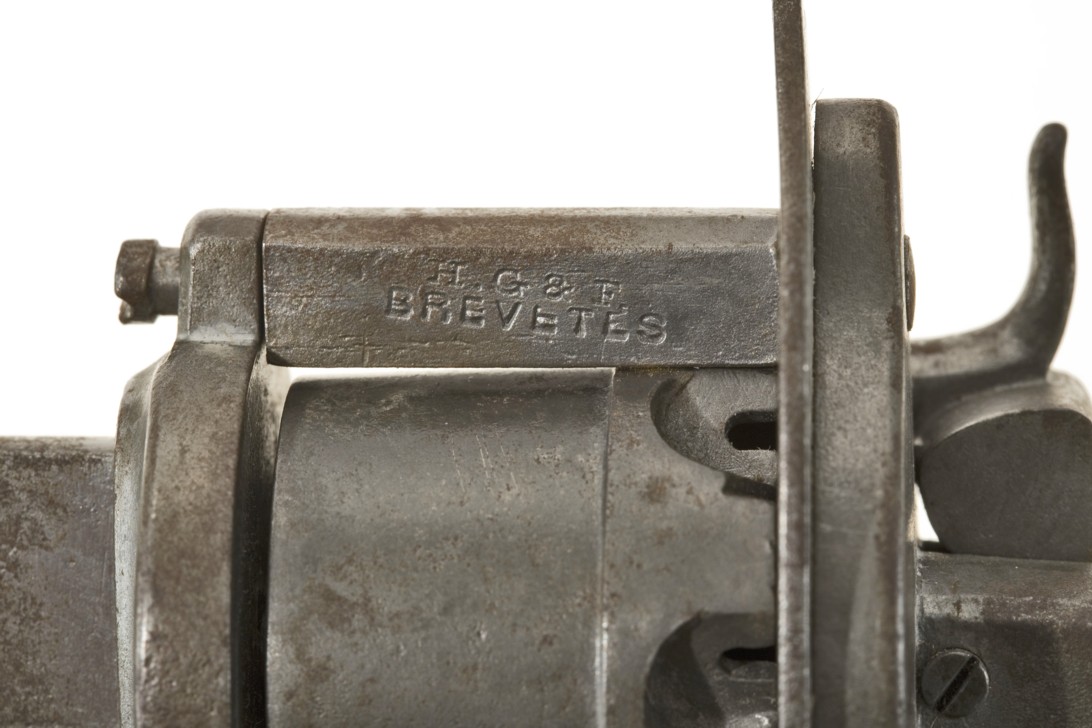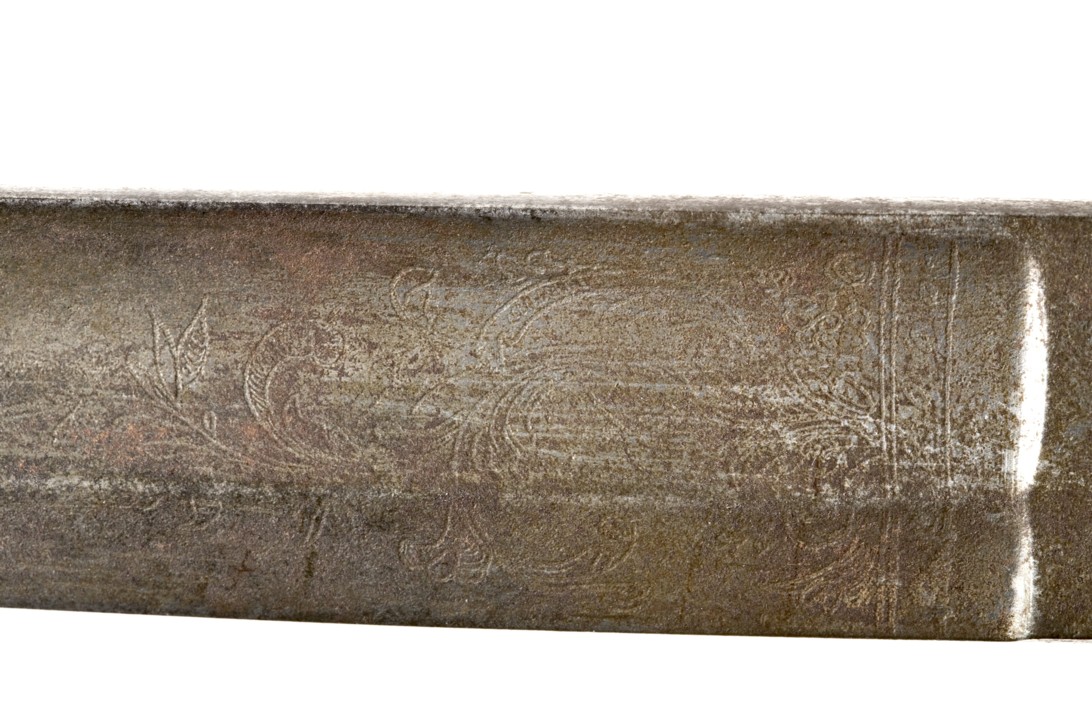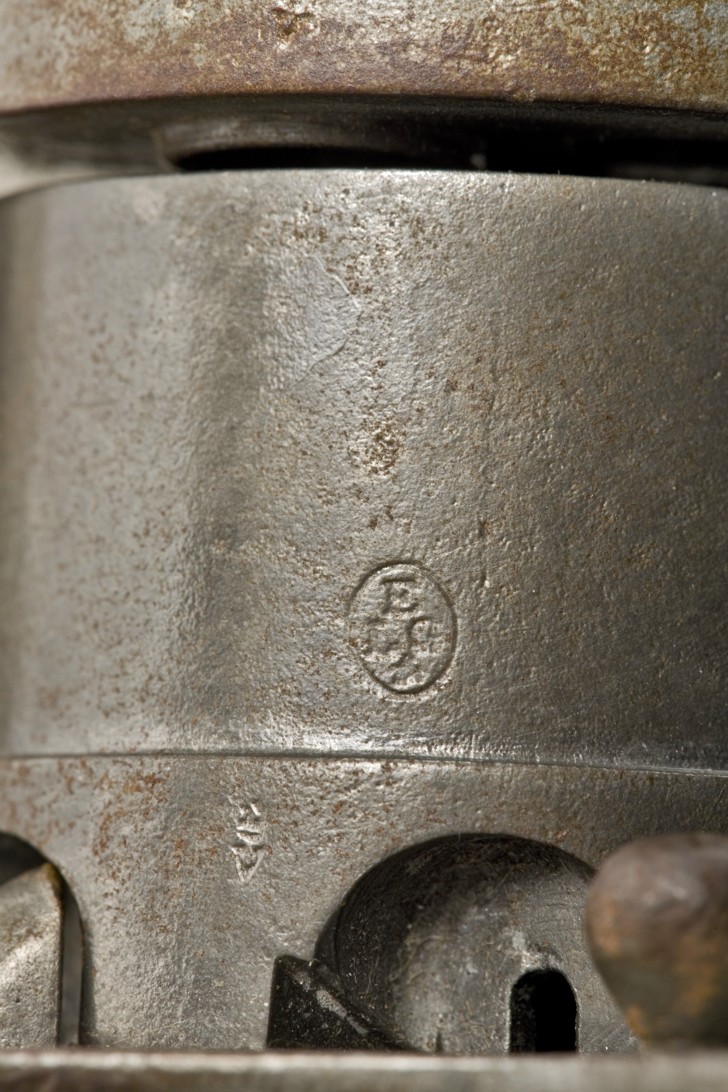 Goossens henri & Fils
SABRE REVOLVER combined for OFFICER OF CAVALRY
The weapon
Mounting is the model officer of cavalry Italian 1864, handle nickelled with pair of squared ebonite plates fixed by a screw with nut.
The guard comprises four copper branches.
A pin revolver of calibre 9mm to double movement is integrated in the blade for the passage of the sleeve. The relaxation is in bottom of the handle and a door is fixed on the guard to put and remove the cartridges with the stem of ejection.
The barrel with six rooms carries the punch of Liege ELG in an oval while the frame carries a number on a side and marking HG & F patented of the other.
The blade is curved with a broad hollow side ending in two gutters on each side.
The inventor
It acts of sior MICHELONI Ambrogio of Milan (Italy) which represented by Henri GOOSSENS manufacturer of weapons in Liege deposited the 26.11.1864 with the provincial Government of Liege the patent n° 17084 for a system of gun revolver sabres with double movement.
Henri GOOSSENS will deposit, in proper name, a second patent n° 18912 the 14.12.1865 relative one to the same type of firearm but coupled this time is with a riding sabre, a sabre of infantry or a hunting knife.
We are unaware of the circumstances of this patent filling appreciably similar to the precedent.
Perhaps did the factory of weapons GOOSSENS repurchase the patent of Mr. MICHELONI?
Patents: to see below.
The manufacturer
The mark HG & F belongs to the arms manufactory Henri GOOSSENS & son, street Trappé, 3 in Liege registered with the bench of test of this town of 1848 to 1885.
GG & MD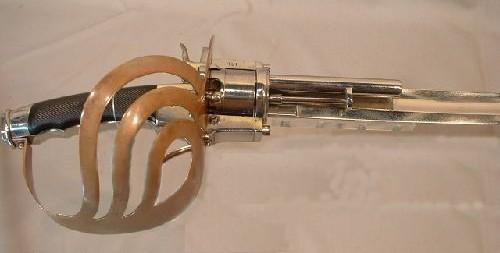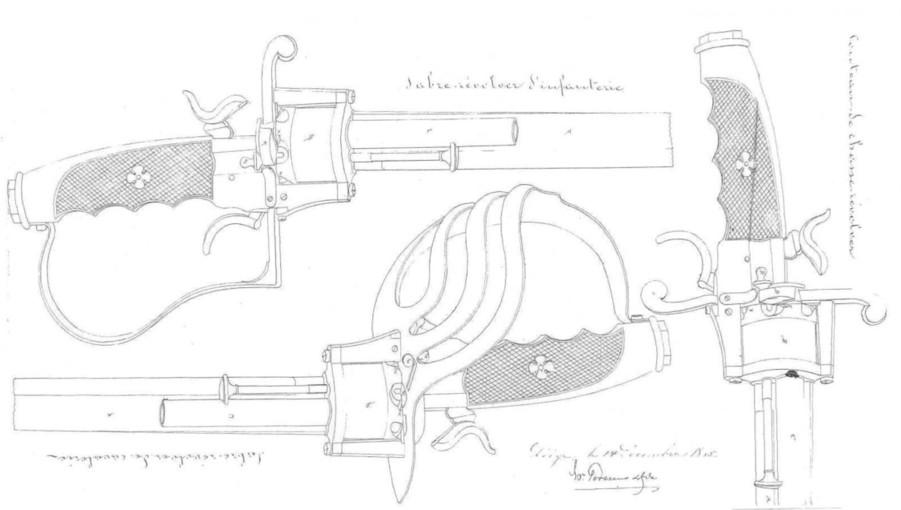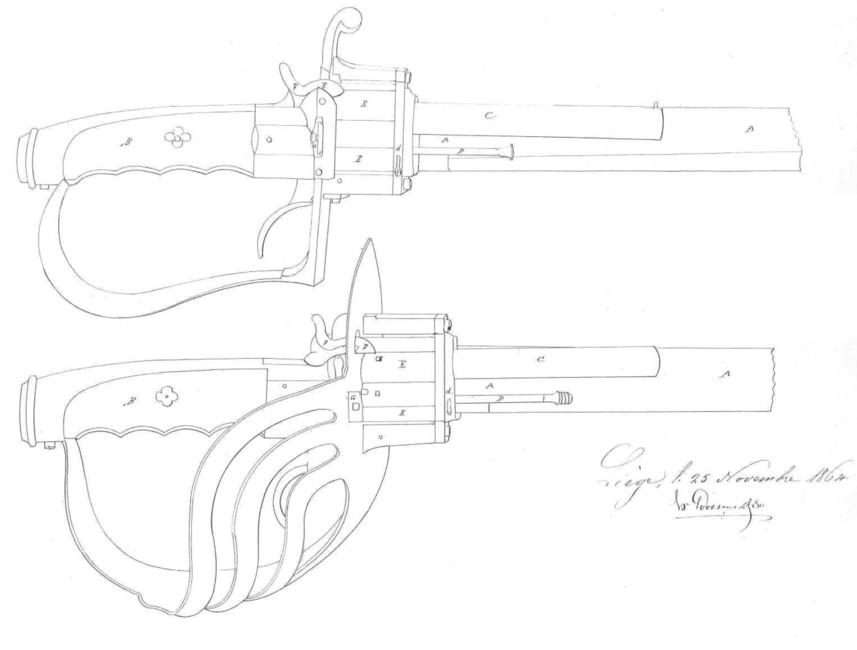 Brevet de et photos de Micheloni