Some of the most beautiful work of this craftsman, and many others, are in this book "Liège Gunmakers through their Work. 1800 - 1950".
For more detail see: LIEGE GUNMAKERS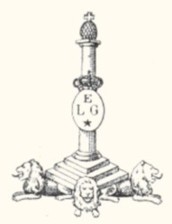 V. GULIKERS-MAQUINAY
They are the civil adaptation of Liège pistol staff officer model 1855 with percussion and hammers in form dolphins.
The barrels are over and under with a brass top sight in barley grain.
Locks of the type "behind" or "retrograde, they in principles are connected between them by a screw crossing mounting.
Wood mounting of drowning is of banana type and ends in a brass cap with ring of suspension.
It acts, in its original model, of the last French lawful gun.
On the present alternative of Liège the side rod is replaced by a rod with beam. It even arrived that these copies are not with rifled bores!
The original pistol is of 17,1mm.
The weapon carries a punch of tests of Liège M under crown which is the countermark of the controller and who was of use of 1846 to 1893.
Marking V.GULIKERS-MAQUINAY A LIEGE 1868, lion on raising sun bottom, belongs to company GULIKERS-MAQUINAY registered with the proofhouse of 1853 to 1903 and active in Liege street of Clarisses, 18.
1868 are the date of manufacture of the weapon.
Are letters JLF struck the barrels unfortunately unknown for me, they probably belong to the manufacturer of the barrels?
GG
Photos Littlegun